NYUSIM Version 2.0 Now Available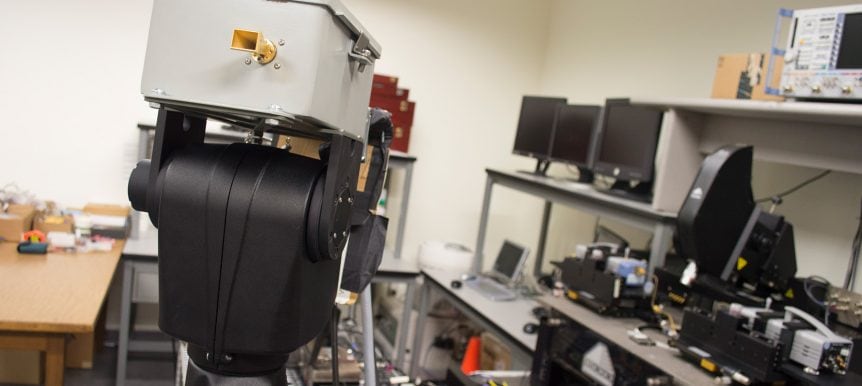 Download the NYUSIM application here.

Please enter your information below to download the following:
NYUSIM Application Version 2.0
Last Modification 9/11/2019 – Update Notes
Three important channel modeling components, spatial consistency, human blockage, and outdoor-to-indoor (O2I) penetration loss, are implemented in NYUSIM 2.0. Each modeling component will be introduced as follows.
Spatial Consistency: Spatial consistency indicates continuous and realistic channel evolution along the user terminal (UT) trajectory in a local area. NYUSIM with spatial consistency simulates spatially correlated channel impulse responses when a UT moves in a local area or multiple UTs are closely spaced. To realize spatial consistency, spatially correlated large scale parameters such as shadow fading, line-of-sight (LOS)/non-LOS(NLOS) condition are generated, and time-variant small-scale parameters such as angles, power, delay, phase of each MPC are generated. Specifically, a geometry-based approach using multiple reflection surfaces is implemented to update spatially correlated and time-variant angular information.
Human Blockage Shadowing Loss: NYUSIM 2.0 can simulate human blockage shadowing loss due to a person near the mobile phone (UT) who may block the transmission link. A human blockage event usually causes a temporal shadowing loss, which may last about several hundreds of milliseconds. A typical blockage event can be divided into four stages, unshadowed, decay, shadowed, rising. A four-state Markov model corresponding to four stages was proposed to characterize blockage events. Such four-state Markov model is implemented to simulate human blockage events for both omnidirectional and directional channels generated from NYUSIM.
O2I Penetration Loss: NYUSIM 2.0 can simulate the channel responses with building penetration loss for the UTs inside the building. O2I penetration loss becomes more prominent at mmWave frequencies as shown in measurements. Many modern buildings are constructed by concrete and have infrared reflecting (IRR) glass, which induce a large penetration loss when a mmWave signal is transmitted from outdoor to indoor or vice versa.
---
Additional Resources
Visit the NYUSIM research page to view key papers related to the simulator.
5G Channel Model with Improved Accuracy and Efficiency in mmWave Bands
http://5g.ieee.org/tech-focus/march-2017/5g-channel-model
---
"A Novel Millimeter-Wave Channel Simulator and Applications for 5G Wireless Communications," 2017 IEEE International Conference on Communications (ICC), May 2017.
"A Millimeter-Wave Channel Simulator NYUSIM with Spatial Consistency and Human Blockage," 2019 IEEE Global Communications Conference (GLOBECOM), Hawaii, USA, Dec. 2019, pp. 1-6.
Submittal to NIST 5G Alliance
5G mmWave Channel Model Alliance – Measurement Parameter and Scenario Parameter
Measurement Parameter and Scenario Parameter List
---
NYUSIM – User License
Copyright (c) 2016 – 2019 New York University and NYU WIRELESS
Permission is hereby granted, free of charge, to any person obtaining a copy of this software and associated documentation files (the "Software"), to deal in the Software without restriction, including without limitation the rights to use, copy, modify, merge, publish, distribute, sublicense, and/or sell copies of the Software, and to permit persons to whom the Software is furnished to do so, subject to the following conditions:
The above copyright notice and this permission notice shall be included in all copies or substantial portions of the Software. Users shall cite NYU WIRELESS publications regarding this work.
THE SOFTWARE IS PROVIDED "AS IS", WITHOUTWARRANTY OF ANY KIND, EXPRESS OR IMPLIED, INCLUDING BUT NOT LIMITED TO THE WARRANTIES OF MERCHANTABILITY, FITNESS FOR A PARTICULAR PURPOSE AND NONINFRINGEMENT. IN NO EVENT SHALL THE AUTHORS OR COPYRIGHT HOLDERS BE LIABLE FOR ANY CLAIM, DAMAGES OR OTHER LIABILITY, WHETHER INANACTION OF CONTRACT, TORT OR OTHERWISE, ARISING FROM, OUT OF OR IN CONNECTION WITH THE SOFTWARE