Radio Club of America Awards Armstrong Medal to Wireless Communications Researcher and Educator Theodore Rappaport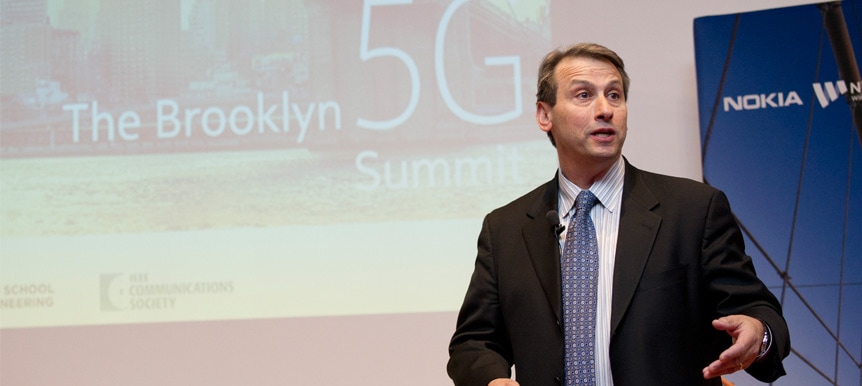 The Radio Club of America (RCA) announced that Professor Theodore "Ted" Rappaport, founding director of NYU WIRELESS and a professor of electrical and computer engineering at the NYU Tandon School of Engineering, will receive the Armstrong Medal for demonstrated excellence and lasting contributions to radio arts and sciences.
Rappaport conducted seminal research, most recently in the millimeter wave (mmWave) radio spectrum. He advanced commercialization of this 5G technology that will bring broadband speeds to wireless communication – thereby potentially revolutionizing medicine, enabling autonomous vehicles, inexpensively connecting rural communities to the digital world, and more.
The RCA, the oldest worldwide organization of wireless communications professionals, also cited Rappaport for his lifelong contributions as an educator. In addition to his position as the David Lee/Ernst Weber Professor of Electrical Engineering at NYU Tandon, he is also on the faculty of the NYU Courant Institute of Mathematical Sciences and the Radiology Department of the School of Medicine.
Rappaport joins a distinguished group of past recipients of the Armstrong Medal — all luminaries in the wireless industry — including Arthur Collins, Walter Cronkite, Harold Beverage, Morgan O'Brien, and Major Edward H. Armstronghimself, who laid the foundations for much of the modern radio, including circuitry and the FM radio system.
In 1991, Rappaport was named an RCA Fellow at the age of 30, making him one of the youngest in recent history.
In 2012, Rappaport launched NYU WIRELESS at NYU Tandon, the first U.S. academic center to merge wireless engineering research with computer science and medicine. Since its founding, NYU WIRELESS has remained at the frontier of next-generation mobile technology, with undergraduate, graduate, and faculty researchers transforming the wireless field through their research into mmWave technology, channel modeling, Massive MIMO, beyond-5G technologies, circuits, and nano devices. The center pioneered mmWave frequencies for mobile communications and acted as an accelerant for the technology by bringing together leading businesses, institutes, and academic researchers at the annual Brooklyn 5G Summit.
Before Rappaport's seminal paper "Millimeter Wave Mobile Communications for 5G Cellular: It Will Work!" many researchers disregarded the potential of the mmWave spectrum. It was Rappaport's research that demonstrated to the world the viability of mmWave radio frequency bands, central to implementing 5G wireless technology.
In addition to the Armstrong Medal, Rappaport has received many prestigious honors throughout his career, including the Marconi Young Scientist Award (1990) and the Institution of Engineering and Technology Sir Monty Finniston Medal (2011). In addition to authoring and co-authoring more than 200 papers and 20 books in wireless communications, Rappaport holds more than 100 U.S. and international patents, founded two of the world's largest academic wireless research centers prior to NYU WIRELESS, and founded and advised multiple wireless companies.
"Ted Rappaport has shown the world the future of wireless communications, not only through his work on mmWave technology but as a leader, researcher, and educator in the wireless field," said Jelena Kovačević, dean of the NYU Tandon School of Engineering. "The RCA's recognition of Ted, particularly with the Armstrong Medal, demonstrates how instrumental his work is on a global scale. His immense contributions have placed NYU Tandon on the map as a leader in wireless technology."
Rappaport will receive the Armstrong Medal at the club's November 17 Banquet and Awards Ceremony in New York City, where he will also serve as the keynote speaker.