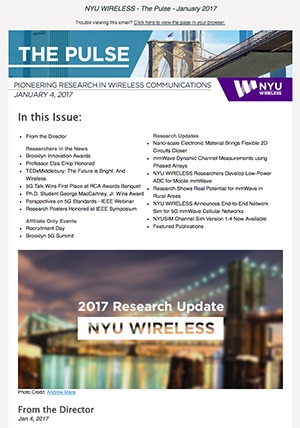 The Pulse
In this issue:
Brooklyn Innovation Awards
Professor Elza Erkip Honored
TEDxMiddlebury: The Future is Bright. And Wireless.
5G Talk Wins First Place at RCA Awards Banquet
Ph.D. Student George MacCartney, Jr. Wins Award
---
Sign up for the NYU WIRELESS Mailing List
Please fill out the following form to have The Pulse along with other important NYU WIRELESS updates delivered directly to your inbox.
---
Previous Newsletter Issues
The Pulse
In this issue:
Wireless Announcements Have Major Impact
NYU WIRELESS wins NSA Grant for Prototyping on mmWave Phased Arrays
NYU WIRELESS Co-Authored Paper Wins IEEE VTC 2016 Spring Conference Best Paper Award
NYU Team Wins an ICC 2016 Best Paper Award
NYUSIM Channel Simulator Now Available
---
NYU WIRELESS opens world-class research space
February 2013
NYU WIRELESS has opened 13,500 square feet of research space, which combines research in wireless technologies, computing and medical applications. The space was designed to create a collaborative environment where state-of-the-art wireless research can be conducted amongst faculty and student researchers…
Read the full issue
---
Wireless Electronic Monitoring Determines Patients' Adherence to Doctor's Orders
April 2013
Doctors often wonder if their patients are following orders. After all, without the patient's cooperation, the best medical treatments in the world will not work if the patient does not follow the proper prescribed dosing regimen….
Read the full issue
---
Qualcomm Technologies and L3 Join NYU WIRELESS
August 2013
Qualcomm Technologies, Inc., a wholly-owned subsidiary of Qualcomm Incorporated, has joined NYU WIRELESS as its 5th Industrial Affiliate and board member. Qualcomm Technologies operates substantially all of Qualcomm's engineering, research and development functions…
Read the full issue
---
NYU WIRELESS "5G Cellular: It Will Work!" Paper Featured as an IEEE Highlighted Article
October 2013
On a recent visit to NYU WIRELESS by IEEE, NYU WIRELESS Director Ted Rappaport was filmed as part of IEEE's "Featured Article" series. Rappaport spoke about the future of 5G wireless traffic and the potential of his research into millimeter wave wireless communications technology. …
Read the full issue
---
NSN Joins NYU WIRELESS Industrial Affiliate Program
December 2013
Nokia Solutions and Networks (NSN) has made a multi-year commitment to actively participate in 5G research activities together with the NYU WIRELESS research center. NSN joins NYU WIRELESS as an affiliate sponsor and advisory board member….
Read the full issue
---
Nokia Solutions and Networks and NYU WIRELESS Bring First-ever 5G Summit to Brooklyn
May 2014
If you had any doubts that Brooklyn was fast becoming one of the hottest locales in the tech industry, look no further than the 5G Summit, held from April 23 to 25 at the New York University Polytechnic School of Engineering…
Read the full issue