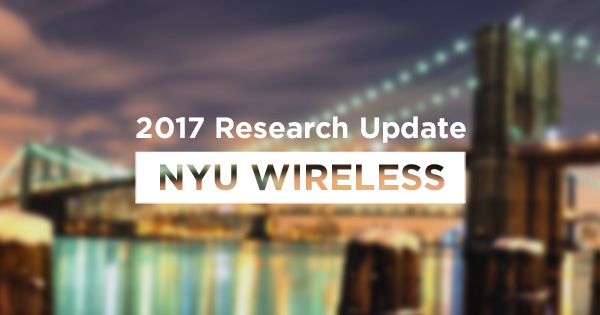 Photo Credit: Andrew Mace
From the Director
Jan 27, 2017
2016 was an exciting year for the wireless industry. Since Prof. Rappaport's initial measurements of mmWave propagation in New York City, we have seen an explosion of activity in the area: The FCC has begun to open up new mmWave bands, standards bodies have made significant progress in 5G system design and many companies are demonstrating and trialing multi-Gbps mmWave prototypes. This rate of progress would not have been imaginable when we started a few years ago, and is a testament to the enormous interest in and potential of the mmWave bands.

I am pleased that NYU WIRELESS, in collaboration with the industrial affiliate members, have remained leaders in academia in this emerging area. Our research has always had a "systems perspective," looking at problems in an integrated manner across the layers of the communication stack from circuits, channel models, system design, networking and applications. We have always strived to put industry needs at the center of our program, and we are enormously thankful for the industrial affiliates and agencies that have shared our vision and collaborated and sponsored our research. I would also like to thank all the students and faculty who continue to amaze me with the research, and our staff (Pat, Adam and Campbell) who have been tireless in managing the center to make everything work so smoothly.

Save the dates: I am looking forward to seeing many of our affiliates at our Recruiting Day/Open House on January 27, 2017, where you will have a chance to meet our students and see some fantastic demos live. Please see the article below for more information on this. And, of course, do not miss the fourth Brooklyn 5G Summit on April 19-21, 2017, which is co-sponsored by NYU WIRELESS, Nokia, and IEEE. You can see videos from last year's Summit here, and information on the upcoming Summit and livestream is here.

On behalf of NYU WIRELESS I would like to wish you and your family best wishes for healthy new year. May your days be filled with inspiration.

Sundeep Rangan
Director, NYU WIRELESS
---
Researchers in the News
---
Brooklyn Innovation Awards
Dec 23, 2016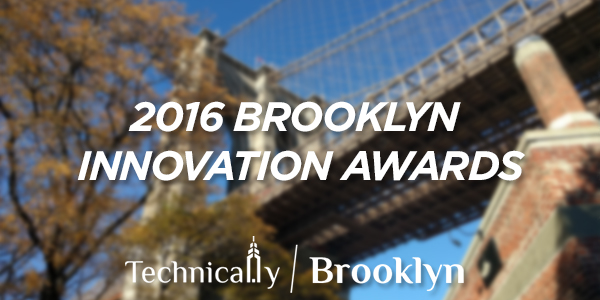 Brooklyn has become a hub for technology, entrepreneurship and design innovation. To recognize the best of the best, Technical.ly, a news and service organization, is holding the 2016 Brooklyn Innovation Awards. Individuals can vote for the nominee of their choice. We would appreciate your vote for NYU WIRELESS in the Tech Mission Organization category; for Ted Rappaport as Scientist of the Year; and for Entrupy as Tech Business of the Year. Entrupy is a start-up co-founded by NYU WIRELESS Prof. Lakshmi Subramanian that aims to enable trustworthy commerce by instantly authenticating high-value physical objects.

---
Professor Elza Erkip Wins Outstanding Achievement Award from WICE
Oct 5, 2016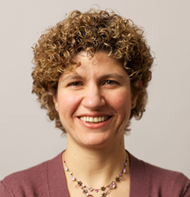 NYU WIRELESS professor Elza Erkip was recognized by the Women in Communications Engineering Standing Committee for her outstanding technical work in the field of communications engineering, and for having achieved a high degree of visibility in the field.

Please visit Dr. Erkip's web page for more information on her work.
---
TEDxMiddlebury: The Future is Bright. And Wireless.
Dec 23, 2016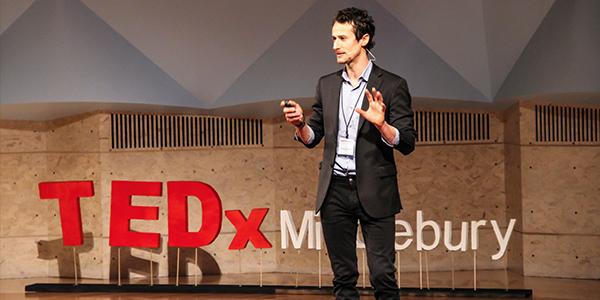 How to explain the evolution of wireless communications toward 5G and beyond to a non-technical audience? And what does this mean to the average consumer? NYU WIRELESS postdoc Marco Mezzavilla recently tackled these questions with finesse in his TEDx talk at Middlebury College, where he unveiled the magic of telecommunications and its impact on society, starting from the Victorian telegraph and the first underwater cable dated 1850.

He explained that the progression of cellular networks, from 1G to 4G, took over 30 years, and it was all about mobile phones with faster internet access. 5G goes beyond that: there will be new players wirelessly connecting to the internet, and to each other, e.g., sensors, cars, drones, and robots. Marco defineed 5G as a wireless, invisible fabric that will enable futuristic scenarios such as mobile VR and immersive tele-presence, fully autonomous cars and drones, tele-surgery, and smart societies. The key ingredients being ultra-high capacity/responsiveness/reliability.

While the move to more rapid communications has many benefits, some people are concerned that as a society we are starting to interact only with our devices, and IRL (in real life) activities are becoming a thing of the past. One only has to talk to parents whose children text them from another room in the same house to witness this. Marco pointed out that fascination with new tech has occurred before, with the popularity of television, for example. He postulated that as we become more familiar and comfortable with mobile devices, interaction will normalize. Finally, he provided some positive examples of how humanity has harnessed the potential of mobile wireless connectivity by building awareness and empathy over networks: he believes that 5G represents the foundation of the next major societal transformation.
---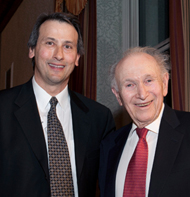 5G Talk Wins First Place at RCA Awards Banquet
Nov 19, 2016
(Left to right) Prof. Ted Rappaport and former NYU Polytechnic department head Prof. Mischa Schwartz
Photo Credit: Lisa Meloni Ragusa
The Radio Club of America is the world's oldest radio society, dedicated to honoring the past and securing the future of wireless communications. Professor Ted Rappaport, founding director of NYU WIRELESS, participated on the 5G panel in RCA's recent technical symposium, along with industry expert Andy Seybold. At the evening awards banquet, the 5G panel was awarded first place for its presentation by the conferees of the event.

The awards banquet was co-sponsored by NYU WIRELESS, and featured a riveting keynote talk by Nobel Prize winning astrophysicist Dr. Joe Taylor, a professor at Princeton. Together with his graduate student, Dr. Taylor received radio signals from some of the first observed pulsars, and proved Einstein's theory of relativity by observing the long time change in orbital momentum from the deep space signals. Also at the awards banquet that evening, former NYU Polytechnic department head Prof. Mischa Schwartz, now with Columbia, was awarded the 2016 Henri Busignies Memorial Award. Nextel founder and former chairman Morgan O'Brien was recognized with the Armstrong Medal.
---
Doctoral Student George MacCartney, Jr. Wins Marconi Society Young Scholars Award
Sept 14, 2016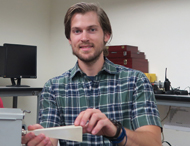 The Marconi Society has awarded George MacCartney, Jr., an electrical engineering doctoral student at NYU Tandon and a researcher at NYU WIRELESS, a 2016 Paul Baran Young Scholars Award for his work on millimeter-wave radio propagation.

He is the first researcher from NYU to win the prestigious prize. Read the full article on NYUWIRELESS.com
---
Perspectives on 5G Standards - IEEE Webinar
Dec 14, 2016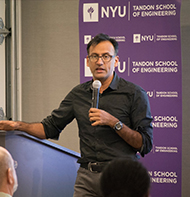 Register now to view the IEEE Webinar.

NYU Wireless Director Sundeep Rangan presented an IEEE webinar on the evolution of 5G standards this December. This webinar offers context on the advances in signal processing, device-centered communications, and evolving technical standards.

Dr. Rangan is a communications researcher and entrepreneur, and a Fellow of IEEE. Download Prof. Ragan's presentation slides here.
---
Tandon Student Research Posters Win First and Second Place at IEEE Symposium
Oct 20, 2016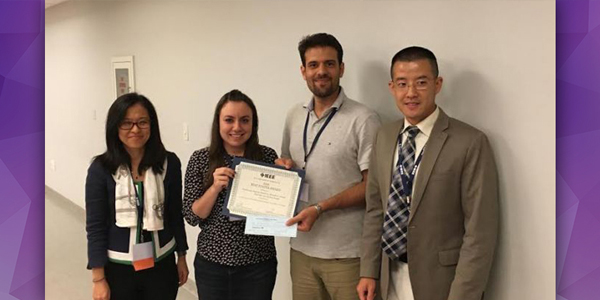 (Left to right) Cecilia Dong, Sarnoff Symposium Co-Chair, NYU Tandon Ph.D. students Fraida Fund and Shahram Shahsavari; and Cong Wang, Forum Chair
As more of the world increases its use of wireless devices and networks, researchers and telecommunication companies face challenges in how to balance the burden of billions of users with the demand for faster and more efficient networks. These challenges also occupy the minds of Electrical and Computer Engineering researchers at NYU Tandon, whose doctoral students and faculty members recently received poster awards for their research in advancements to network architecture at the 37th Institute of Electrical and Electronics Engineers (IEEE) Sarnoff Symposium. Read the full article on NYUWIRELESS.com
---
Research Updates
---
Highest Performing Tungsten Disulfide Yet Brings Flexible 2D Circuits Closer
Nov 14, 2016

Assistant Professor Davood Shahrjerdi and Ph.D. student Abdullah Alharbi have pioneered a method for growing an atomic scale electronic material at the highest quality ever reported. In a paper published in Applied Physics Letters, they detail a technique for synthesizing large sheets of high-performing monolayer tungsten disulfide, a synthetic material with a wide range of electronic and optoelectronic applications. "It's a critical step toward enabling the kind of research necessary for developing next-generation transistors, wearable electronics, and even flexible biomedical devices," explained Davood. You can read more about this important development here.
---
mmWave Dynamic Channel Measurements using Phased Arrays
Dec 23, 2016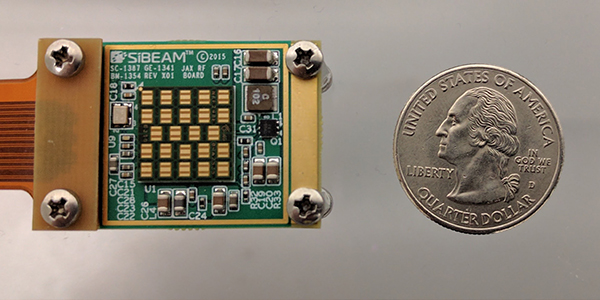 Dynamic channel measurements and 5G prototyping at 60 GHz are currently being conducted by Ph.D. candidate Chris Slezak under the supervision of postdoc Aditya Dhananjay. Crucial to the project are two SiBeam phased arrays and a flexible National Instruments baseband system, which were purchased with support from a National Science Foundation EAGER grant.

The National Instruments system consists of multiple powerful FlexRIO FPGA modules that generate baseband signals, as well as control signals for the arrays. These control signals set the phases on each of 12 antenna elements that are available in transmit or receive mode. Different combinations of phases across these antenna elements will result in different pointing angles for the array, effectively allowing the array to "look" in different directions without any moving parts. The arrays are capable of switching between pointing angles in just a few microseconds, allowing for channel behavior across multiple paths to be studied almost simultaneously. These results will be essential in determining how mmWave 5G systems should react when a link is suddenly lost due to rapid variations in the channel.

Initial measurements will consist of a simple blockage study with a person walking between the transmitter and receiver. All possible angular combinations will be frequently and periodically measured to find alternate paths between the transmitter and receiver. This experiment will help answer important questions such as how long to wait before scanning for new paths, how many pointing angles should be searched, and how the transmitter and receiver can cooperate during the search. Candidate algorithms to solve these problems can be proposed and tested via simulation, but real measured data is required before standards can be developed and devices built. Measurement campaigns employing mechanically steerable antennas have confirmed that mmWave will work. This system and its results are a crucial step in answering how they will work.
---
NYU WIRELESS Researchers Develop Low-Power ADC for Mobile mmWave
Dec 23, 2016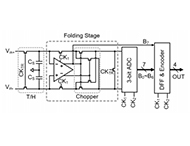 A widely-recognized key challenge in millimeter wave (mmWave) communications is the potential high-power consumption of the analog-to-digital converters (ADCs). Many designs attempt to reduce the power by performing analog beamforming to combine the signals before the ADC and hence reduce the number of ADCs required. Unfortunately, such analog beamforming architectures can only point beams in limited number of directions at a time — a major restriction for cellular applications serving multiple users with mobility.

NYU WIRELESS researchers, lead by Davood Shahrjerdi and postdoc Bayan Nasri, have recently published results demonstrating an ultra-low power ADC that could enable fully digital transceivers. Power consumption is reduced by using lower quantization rates and a new "fully-folded" circuit architecture. Previous studies at NYU WIRELESS have demonstrated enormous gains in various tasks such as cell search and scheduling with these low-resolution architectures. NYU WIRELESS director Sundeep Rangan commented on the work, "The availability of low power ADCs opens up completely new ways we can process signals for mobile cellular applications and has wide impact across the network stack." The design in the paper would enable 1 Gs/s sampling with 4 bits at under 1 mW. Click here for more details.
---
NYU Wireless Research Shows Real Potential for Millimeter Wave in Rural Areas
Oct 7, 2016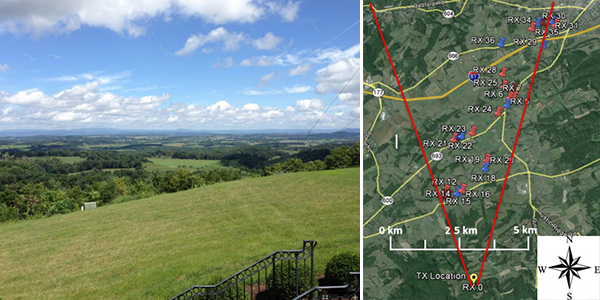 Rural Channel Sounder Test Area
It seems as though getting millimeter wave (mmWave) technology to work in rural areas might not be as daunting a task as it once appeared. Researchers at NYU Wireless went into the field last summer to see for themselves, with some surprising results. In a paper titled "Millimeter Wave Wireless Communications: New Results for Rural Connectivity," researchers described in detail the measurements and models that are the first to validate rural millimeter wave path loss models. Ted Rappaport, NYU Tandon professor of electrical engineering and founding director of NYU Wireless, presented the research at the Association of Computing Machinery (ACM) MobiCom "All Things Cellular" workshop in New York. Read the full article on Fierce Wireless.
---
NYU WIRELESS Announces the World's First Open Source End-to-End Network Simulator for 5G mmWave Cellular Networks
Dec 23, 2016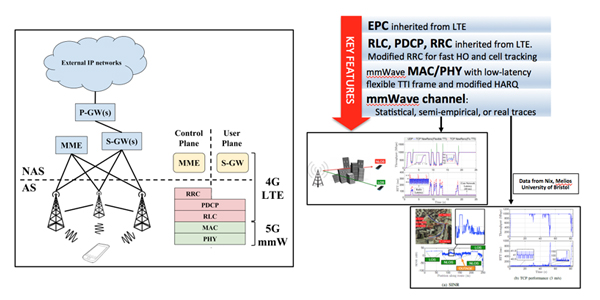 The growing demand for ubiquitous mobile data services, along with the scarcity of spectrum in the sub-6 GHz bands, has given rise to the significant interest in developing wireless systems that can exploit the large amount of spectrum available in the millimeter wave (mmWave) frequency range. Due to its potential for multi-gigabit and ultra-low latency links, mmWave technology is expected to play a central role in 5th Generation (5G) cellular networks. However, these systems are still in their infancy, and simulation tools will be required for academia and industry to develop and evaluate novel procedures to operate in these bands.

NYU WIRELESS is pleased to release the world's first open source end-to-end network simulator, which can model the entire path from a server through the Internet, the cellular core network, the base station and the mmWave air-link. This powerful framework includes detailed models for the mmWave channel, configurable MAC layer and frame structure, RLC, PDCP layers, as well as cellular packet core and applications. The work builds on the highly successful LTE module, co-developed earlier by NYU WIRELESS postdoc Marco Mezzavilla while at CTTC, the renowned research center in Barcelona, Spain. Dr. Mezzavilla, who is now leading the mmWave ns3 project, says: "I am thrilled by the demand we are seeing for the mmWave simulator from our industrial affiliates and others researchers all over the world. It demonstrates a tremendous interest in mmWave and the urgent need for complete end-to-end tools that we are building."

Thanks to this simulator, the group has already published several surprising results on end-to-end performance on future generation mmWave networks. These papers cover critical topics such as TCP performance over mmWave, as in "Transport Layer Performance in 5G mmWave Cellular" and "The bufferbloat problem over intermittent multi-Gbps mmWave links," and handover with multi-connectivity and 4G LTE backward compatibility, as in "Improved Handover Through Dual Connectivity in 5G mmWave Mobile Networks." A detailed description of the framework is provided in "A Framework for End-to-End Evaluation of 5G mmWave Cellular Networks in ns-3". The code can be downloaded here.
---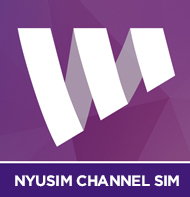 NYUSIM Channel Simulator Version 1.4 Now Available
Nov 1, 2016
NYU WIRELESS just released an update to the ground-breaking NYUSIM Channel Simulator. The NYUSIM Channel Simulator provides a complete statistical channel model and simulation code with an easy-to-use interface for generating realistic spatial and temporal wideband channel impulse responses.

The simulator is based on the recent journal paper, "3-D Millimeter-Wave Statistical Channel Model for 5G Wireless System Design," by Mathew Samimi and Ted Rappaport.

Please visit NYUWIRELESS.com to download the simulator.
---
Featured Publications
Dec 23, 2016
NYU WIRELESS is pleased to publish cutting-edge research, with the support of our affiliate sponsors together with NSF and NIH.

We invite you to read our featured publications that highlight important developments.
---
Affiliate Only Events
---
Save the Date: Recruitment Day - January 27
Dec 23, 2016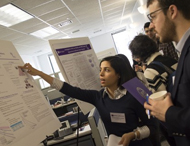 NYU WIRELESS affiliate members, please join us on Friday, January 27 at 11 a.m. for the annual NYU WIRELESS Recruitment Day. In addition to meeting our students, Recruitment Day is also a great opportunity to exchange emerging ideas in areas related to 5G and wireless communication with the students and faculty members of NYU WIRELESS. We welcome your input on our projects and research direction and would like to explore ways in which we can collaborate in the future.
---
Save the Date: B5GS, April 19 - 21, 2017
Nov 11, 2016
NYU WIRELESS at NYU Tandon School of Engineering and Nokia Networks are jointly organizing the fourth Brooklyn 5G Summit to be held on April 19 - 21, 2017. You can learn more about next year's Summit at Brookyln5GSummit.com and view videos from the previous Summit at B5GS.com

Please note that the public is invited to view the B5GS IEEE livestream during the Summit. Login details will be posted on the site.
---
NYU WIRELESS Industrial Affiliates