The last few months have seen remarkable progress in commercialization of 5G technologies in general and millimeter wave (mmWave) communication in particular. Most importantly, the 5G New Radio specification is well underway with the Phase 1 release to be completed in 2018. When completed, the new design will enable a powerful and flexible platform to massively increase capacity, and realize new applications such as connected cars and VR/AR. At the same time, several NYU WIRELESS affiliate members have demonstrated remarkable multi-Gbps pre-specification prototypes, test equipment and other related tools, and are validating these systems in large scale trials with US carriers.

​NYU WIRELESS is excited to be a part of these developments and honored to collaborate with our affiliates in bringing new wireless technologies to market. We continue to expand new areas for wireless research, including a significant grant award from NIST to bring mmWave technology to first responders. In addition to understanding a new and important use case, the NIST award will investigate novel research directions, including aerial wireless communication, localization and video.

We would also like to welcome new affiliates Sprint, Crown Castle and OPPO, which expand the eco-system of companies involved in wireless. Additionally, our faculty members have reported on their research at several conferences, and our students are engaged in internships across the country.

Meanwhile, we are preparing for fall activities. Please see below for our upcoming affiliate-only events. More information will be sent about these shortly.

We offer our best wishes for an enjoyable summer.

Sundeep Rangan
Director, NYU WIRELESS
Welcome to Our New Affiliates

Interest in 5G wireless communications continues to grow as we get closer to commercial applications. To help speed the progress of 5G research, three new affiliate members recently joined NYU WIRELESS. We're very pleased to welcome these prominent additions to our Center.



NYU WIRELESS and

Sprint

will combine efforts on 5G-oriented projects.

Sprint

, with its focus on developing, engineering and deploying new technologies, recently agreed to develop the 3GPP New Radio (NR) standard in Band 41 (2.5 GHz) for accelerated wide-scale 5G deployments together with SoftBank and NYU WIRELESS affiliate member Qualcomm. According to Dr. Ron Marquardt, vice president of technology at

Sprint, "We're focused on delivering mobile 5G in late 2019 using our 2.5 GHz spectrum to provide broad 5G coverage. Our work with NYU WIRELESS will be instrumental for practical use of this spectrum and ensuring strong integration between spectrum bands."



Additionally, global smartphone vendor OPPO recently joined NYU WIRELESS. OPPO, which designs, develops, and manufactures premium smartphones and relevant mobile technologies, will work with students and faculty on 5G-oriented activities. Hai Tang, OPPO's director of standardization, said, "NYU WIRELESS has been a major source of innovation in the frontier of telecommunications technologies, and we are delighted to join NYU WIRELESS' industry affiliate program. We are committed to developing a promising next-generation mobile communications technology, commonly known as 5G."

NYU WIRELESS also welcomed Crown Castle to the ranks of distinguished affiliate members. Crown Castle, the nation's largest provider of shared wireless infrastructure, will join with NYU WIRELESS in advancing targeted projects. "It's important that Crown Castle is connected to research that advances the field and that we contribute to the direction of the work," stated Mark Reudink, director, product development for Crown Castle.

NYU WIRELESS affiliate members know that there are many benefits of joining the Center. These include participation in the NYU WIRELESS Advisory Board, which helps guide and formulate strategic research and educational initiatives within the Center; attendance at the Brooklyn 5G Summit each April; an invitation to participate in our Open House each January, in which NYU WIRELESS' latest research results are presented, and where affiliate members can interview students and meet with faculty to discuss research projects; and many more. To learn more about the advantages of becoming an industrial affiliate, please visit

NYUWIRELESS.com/industry-affiliates

or email

Pat.Donohue@NYU.edu

.
---
NYU WIRELESS Researchers in the News
NYU WIRELESS to Bring Ultra-Speed Wireless Connectivity to First Responders

​Researchers met in San Antonio, Texas in June, 2017 to jump-start technology that could enable first responders to relay video in moving ambulances, employ virtual reality in emergencies, receive high-definition images from drones in real time, or control robots in restricted indoor environments too dangerous for humans.
The meeting was prompted by an award by NIST of $2.3 million to NYU WIRELESS to create a research platform for public safety communications using frequencies above 6 GHz in the mmWave spectrum.
Pictured L to R: Austin Firefighter Coitt Kessler, NYU WIRELESS Research Scientist Marco
Mezzavilla, Austin Firefighter James Zottarelli, and NYU WIRELESS Director Sundeep Rangan.
The NYU Tandon School of Engineering Dante Youla Award Given to George MacCartney

Given in honor of Electrical and Computer Engineering Professor Dante Youla, this award for graduate research excellence in electrical and computer engineering was bestowed upon George MacCartney. The award honors the graduate student who has made the most significant research contribution among all ECE graduate students (PhD and MS) in the past year.
Professor Elza Erkip

participated on a panel discussion at the IEEE Communication Theory Workshop in Fiji in June 2017. She discussed, "An Economic Perspective on Spectrum and Infrastructure Sharing in Millimeter Wave Cellular Networks." Also on the panel was NYU WIRELESS collaborator

Professor Michele Zorzi

from the University of Padova, who spoke about the application of machine learning techniques for network optimization.
PhD candidate

Fraida Fund

, who is part of

Professor Shivendra Panwar

's research team, recently served as mentor to a budding researcher from Stuyvesant High School in New York City,

Caleb Smith-Salzberg

. Caleb joined the group as part of the Applied Research Innovations in Science and Engineering (ARISE) program, which nurtures NYC's best young STEM talent at NYU Tandon School of Engineering. Under Fraida's supervision, Caleb was first author on his first research paper that was accepted for publication and presentation at the 2017 IEEE INFOCOM. He also won Best Paper Award at the Computer and Networking Experimental Research Using Testbeds (CNERT) Workshop.

​
Marco Mezzavilla

, a Research Scientist with NYU WIRELESS, was invited to Japan in June and July 2017 to present his work in 5G wireless communications. He gave talks at the National Institute of Informatics in Tokyo, the 18th IEEE International Workshop on Signal Processing Advances in Wireless Communications (SPAWC) at Hokkaido University in Sapporo, the Tokyo Institute of Technology, and Tokyo University. Among the topics he discussed were active queue management (AQM) and dynamic receive window as solutions to long latency, and NYU WIRELESS' end-to-end research platform.

​
Professor and Chair Shivendra Panwar

recently received a grant from Sony to study dynamic channel measurement and modeling, multipath transport and relaying, and end-to-end mmWave system experiments.


​
NYU Langone Medical Center

Associate Professor of Radiology Riccardo Lattanzi

recently received an NIH R01 grant award to develop a comprehensive software package for the design and evaluation of radio frequency (RF) coils for applications in magnetic resonance imaging (MRI).

​
---
NYU WIRELESS 2017 Internships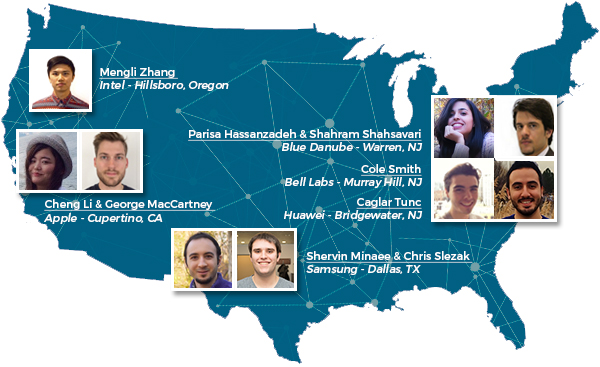 NYU WIRELESS interns are working around the country this summer, collaborating with impressive companies and start-ups. We are looking forward to hearing what they have learned in the fall.
​
---
NYU WIRELESS Research Updates
The May 2016 study, led by NYU WIRELESS PhD candidate Shu Sun, was a collaboration with NYU WIRELESS affiliate companies Nokia and Qualcomm together with colleagues at Aalborg University in Denmark. The study compared three large-scale propagation path loss models for use in urban and indoor environments over the entire microwave and mmWave spectrum using 30 propagation measurement data sets. Importantly, the work led to the optional path loss model that was recently adopted by ITU 5D and ​
3GPP TR 38.901
for indoor and urban environments, which uses a 1 m close-in reference distance for all frequencies from 500 MHz to 100 GHz.
The project was supported by NYU WIRELESS 2016 affiliates AT&T, CableLabs, Ericsson, Huawei, Intel, InterDigital, Keysight, L3 Communications, Nokia, NI, Qualcomm, Samsung, SiBeam, Straight Path, Cablevision, UMC and XO Communications, as well as NSF and the GAANN Fellowship Program. The Neal Shepherd Propagation Prize is an annual award given to the best propagation paper in
IEEE Transactions on Vehicular Technology
. The award will be presented to Shu and her coauthors at the Fall 2017 IEEE Vehicular Technology Conference in Toronto.
​
In addition to Shu Sun, coauthors of the paper are Theodore S. Rappaport, Fellow, IEEE; Timothy A. Thomas, Member, IEEE; Amitava Ghosh, Fellow, IEEE; Huan C. Nguyen, Member, IEEE; István Z. Kovács, Member, IEEE; Ignacio Rodriguez, Student Member, IEEE; Ozge Koymen, Member, IEEE; and Andrzej Partyka, Member, IEEE.
---
NI Donates Nearly $1 Million in Hardware and Software to NYU WIRELESS to Accelerate 5G Research​
National Instruments and NYU WIRELESS today announced that NI has made a sizable donation to the university research team to further mmWave communications, channel measurement and channel emulation research for 5G communications and beyond. As part of the donation, NI will equip NYU WIRELESS labs with hardware and software from its flexible software defined radio (SDR) solutions, which researchers in both industry and academia are already using to help usher in the next generation of 5G wireless communications.
---
The 2017 Brooklyn 5G Summit Affirmed Tandon's Role as a Research Leader in Next-Generation Communication
Hundreds of global industry leaders and star researchers — the forces fueling a new communications revolution — converged at MetroTech Center in April 2017 for the invitation-only

Fourth Annual Brooklyn 5G Summit

, co-hosted by

Nokia

and

NYU WIRELESS

.
---
At Brooklyn summit, a new world of 5G on display
"When we move from 4G wireless to 5G wireless it will be like society having a 'digital nervous system limited only by device physics, chemistry, materials and the speed of light.'"
So, at least, says Dr. Kenneth C. Budka, a senior partner at the consulting arm of the storied Bell Labs (which was acquired by summit co-sponsor Nokia in 2015). Budka, and others who spoke at the event Thursday envisioned a future where cell data is so fast, strong, and quick, that the equivalent of super powered WiFi will be all around us, unconstrained by routers and modems and fiber cable. That vision has a lot of impact for the kinds of technology that could thrive in such an environment.
---
FCC Grants NYU WIRELESS Early 'Program Experimental License' for Cutting-edge Work Throughout the Radio Spectrum​
This year many mobile carriers are launching early services for 5G — the next generation of wireless that promises speeds 10 to 100 times faster than 4G LTE — and a host of other technology companies are testing devices and systems for the Internet of Things that will depend on this coming glut in capacity.

​To make research and development for 5G and other revolutionary applications of wireless communications easier, the Federal Communications Commission (FCC) today launched a new web portal that lets researchers apply for a program experimental license.
---
NYU WIRELESS was well represented at IEEE's ICC meeting in Paris in May 2017. George MacCartney

and

Yunchou Xing

from Professor Rappaport's team presented six papers, ranging from rural to urban to indoor mmWave communications; MIMO

channel estimation based on adaptive compressed sensing; and the NYUSIM mmWave channel simulator. Additionally, Fraida Fund presented a paper on resource sharing among mmWave cellular service providers; and X. Zu and Pei Liu reported on work regarding latency prediction of edge devices. View additional publications below.
Pictured L to R: PhD Candidate George MacCartney, PhD Candidate Fraida Fund, NYU Research Assistant Pei Liu and PhD Candidate Yunchou Xing.
G. R. MacCartney, Jr. and T. S. Rappaport,

"Rural Macrocell Path Loss Models for Millimeter Wave Wireless Communications,"

in IEEE Journal on Selected Areas in Communications, vol. 35, no. 7, pp. 1663-1677, July 2017.
G. R. MacCartney, Jr. and T. S. Rappaport,

"A Flexible Wideband Millimeter-Wave Channel Sounder with Local Area and NLOS to LOS Transition Measurements,"

in 2017 IEEE International Conference on Communications (ICC), Paris, France, May 2017, pp. 1-7.
J. Ryan, G. R. MacCartney, Jr., and T. S. Rappaport, "Indoor Office Wideband Penetration Loss Measurements at 73 GHz," in 2017 IEEE International Conference on Communications Workshop (ICCW), Paris, France, May 2017, pp. 1-6.

S. Sun, G. R. MacCartney Jr., and T. S. Rappaport,

"A Novel Millimeter-Wave Channel Simulator and Applications for 5G Wireless Communications,"

2017 IEEE International Conference on Communications (ICC), May 2017.
S. Sun, H. Yan, G. R. MacCartney Jr., and T. S. Rappaport, "Millimeter Wave Small-Scale Spatial Statistics in an Urban Microcell Scenario," 2017 IEEE International Conference on Communications (ICC), May 2017.
G. R. MacCartney, Jr. and T. S. Rappaport,

"Study on 3GPP Rural Macrocell Path Loss Models for Millimeter Wave Wireless Communications,"

in 2017 IEEE International Conference on Communications (ICC), Paris, France, May 2017, pp. 1-7.
---
Webex - September 16, 2017 at 11 a.m. Eastern
Our NYU WIRELESS webinar on September 16, 2017 will feature presentations from our research students and provide affiliate members the chance to contribute feedback on our research.
Recruitment Day - January 26, 2017
Recruitment Day is a great opportunity to exchange cutting-edge ideas in areas related to 5G and wireless communication with the students and faculty members of NYU WIRELESS. We welcome input on our projects and research direction and would like to explore ways in which we can collaborate in the future.
B5GS - April 24-26, 2018

The fifth Brooklyn 5G Summit will build on the achievements of the past four years with panelists and presenters discussing the next steps for making 5G a commercial reality.