NYU WIRELESS Rotates Directorship: Poised for New Growth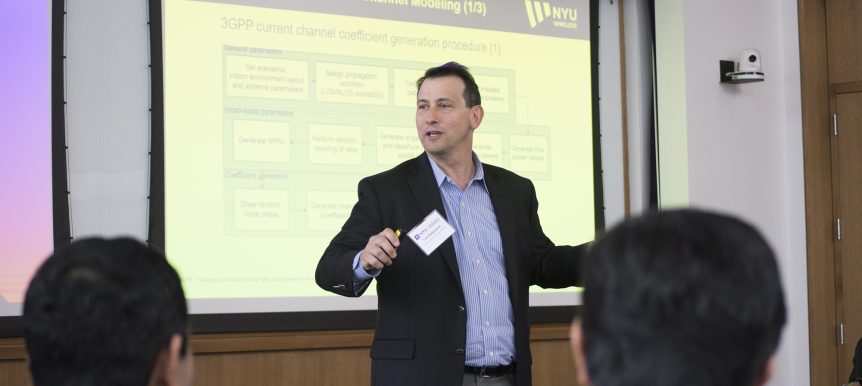 Professor Theodore (Ted) Rappaport, founding director of NYU WIRELESS, is stepping back into the director role effective today. Assisting Professor Rappaport will be Associate Directors Professor Sundeep Rangan, Professor Thomas Marzetta, Professor Dennis Shasha from NYU's Courant Institute for Mathematical Sciences, and Assistant Professor J.R. Rizzo from NYU Langone Health.
Professor Rangan admirably served as director for the past three years of successful operations of NYU WIRELESS, spearheading the Center through a very busy time. He worked with all the Center's industrial affiliate partners, which have taken the mmWave propagation, theoretical analysis, and system design research conducted at NYU and have created the 5G technologies that are now set to revolutionize wireless communications, as well as all the other industries and products that benefit from mobile connectivity.  It was the industrial affiliates' energy, expertise, and commitment to product excellence that have driven our research.
Amplifying the support from our industrial affiliates, several NYU WIRELESS investigators recently received research awards of note. These include the COSMOS platform, which is part of the PAWR initiative (Platforms for Advanced Wireless Research) funded by the National Science Foundation. COSMOS is a testbed for a new generation of wireless technologies and applications. NYU WIRELESS Associate Director Professor Rangan is leading the project at NYU Tandon School of Engineering together with colleagues Professor Shivendra Panwar and Research Assistant Professor Thanasis Korakis, as well as with researchers at Rutgers and Columbia in partnership with New York City, Silicon Harlem, City College of New York and the University of Arizona.
Another exciting award was received by NYU WIRELESS recently from NIST (the U.S. Commerce Department's National Institute of Standards and Technology). Effort on this grant will focus on reducing the time to bringing mmWave technology to public safety communications and will employ drones as part of the project, providing an end-to-end system simulation of a complex public safety scenario. Working with the Austin Fire Department, in conjunction with the University of Padova, the investigators will be using equipment and software provided by NYU WIRELESS industrial affiliate sponsor National Instruments. Research on the three-year grant will be conducted by principal investigators Professors Ted Rappaport and Sundeep Rangan, together with Research Scientist Marco Mezzavilla and Post-Doctoral Research Fellow Aditya Dhananjay.
Going forward, NYU WIRELESS has immense opportunities. With 5G becoming a commercial reality, our Center continues to create the state-of-the-art in wireless communications at Terahertz frequencies, along with revolutionary networks, circuits and applications — Professor Rappaport recently discussed these developments with FCC Chair Ajit Pai. NYU WIRELESS has an incredible set of talents, and an amazing board of industrial affiliates who provide substantial strategic and financial support, and students who will continue to transform the field.
Please join us in giving Ted our strongest support as we move toward an exciting future in wireless communications.