IEEE Communications Society Honors Founder of NYU Wireless Research Center for Seminal Work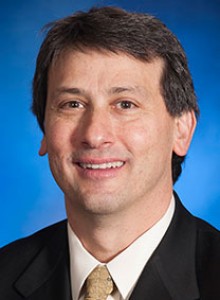 The Institute of Electrical and Electronics Engineers (IEEE) Communications Society announced it will award New York University's Theodore (Ted) S. Rappaport the 2015 Edwin Howard Armstrong Achievement Award for his broad contribution and outstanding leadership in channel measurement and technology research fundamental to mobile communication.
Rappaport is the David Lee/Ernst Weber Professor of Electrical and Computer Engineering at the NYU Tandon School of Engineering, a professor of computer science at the NYU Courant Institute of Mathematics, a professor of radiology at the NYU Langone School of Medicine, and founder of NYU WIRELESS, the first university center to combine wireless engineering, computing, and medical applications research.
NYU WIRELESS is home to pioneering research with the millimeter-wave (mmWave) spectrum, including propagation measurements, radio channel modeling, system simulation, and antenna technology that are the foundation for the next, super-fast, fifth generation of mobile technology, 5G, which is projected to become 1,000 times faster than 4G, with the ability to handle at least 50 times more traffic.
Rappaport launched the center in 2012, and it has since grown to include more than 100 undergraduate and graduate students, more than 20 faculty researchers, and nearly 20 industrial affiliate sponsors. FierceWirelessTech recently named it the leading academic research center for 5G worldwide. Before coming to NYU, Rappaport founded two other leading wireless academic research centers and two successful tech startup companies.
He has more than 100 U.S. or international patents issued or pending and has authored, co- authored, and co-edited more than 200 papers and 20 books in the wireless field. Among his other honors are the Marconi Young Scientist Award (1990), a National Science Foundation Presidential Faculty Fellowship (1992), the Sarnoff Citation from the Radio Club of America (2000), the Terman Award (2002) from the American Society for Engineering Education (ASEE), the Stuart F. Meyer Award from the IEEE Vehicular Technology Society (2005), the Institution of Engineering and Technology (IET) Sir Monty Finniston Medal (2011), the William Sayle award from the IEEE Education Society (2012), and the IEEE Award for Outstanding Contributions to Wireless Communications (2015).
"Professor Ted Rappaport has been vital in making NYU a leading force in the field of wireless communication," said Katepalli Sreenivasan, president and dean of the NYU Tandon School of Engineering. "This latest honor from the IEEE Communications Society affirms the importance and foundational nature of his work and places him squarely in the pantheon of history-making researchers."
IEEE Awards Chair Lajos Hanzo said, "Professor Rappaport's dedicated contributions are much valued by our closely knit wireless communications community both as an innovator as well as an educator and entrepreneur. His books and papers have inspired generations of scientists and earned him this exquisite public recognition 42 years after Claude Shannon [considered the father of the electronic communications age]. No doubt he will continue to make waves in mmWave communications."
Rappaport will receive the award—which is named in honor of inventor Edwin H. Armstrong, whose research formed the backbone of radio communication as we know it today—on December 7, 2015, at GLOBECOM, a flagship conference of the IEEE Communications Society.
The NYU Tandon School of Engineering dates to 1854 when the NYU School of Civil Engineering and Architecture, as well as the Brooklyn Collegiate and Polytechnic Institute (now NYU Tandon), were founded. Their successor institutions merged in January 2014 to create a comprehensive school of education and research in engineering and applied sciences, rooted in a tradition of invention, innovation, and entrepreneurship. In addition to programs at its main campus in downtown Brooklyn, it is closely connected to engineering programs in NYU Abu Dhabi and NYU Shanghai, and it operates business incubators in downtown Manhattan and Brooklyn.