Brooklyn 5G Summit Press Coverage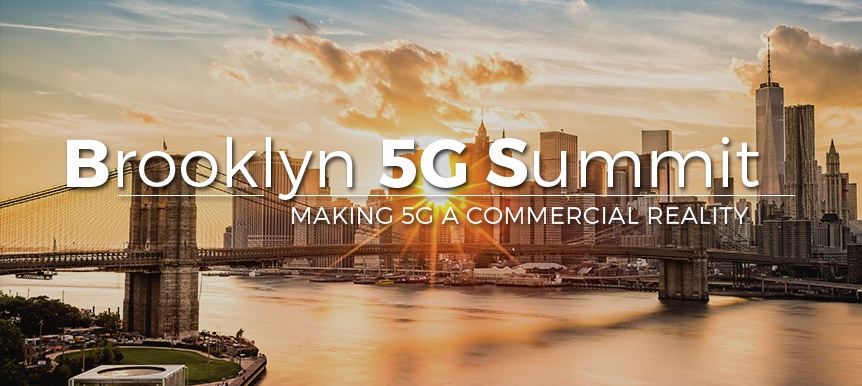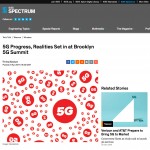 5G Progress, Realities Set in at Brooklyn 5G Summit
IEEE Spectrum
"5G technologies are early in their development, and the business cases for them are a bit fuzzy, but wireless researchers and executives still had plenty to celebrate this week at the annual Brooklyn 5G Summit. They've made steady progress on defining future 5G networks, and have sped up the schedule for the first phase of standards-based 5G deployments.
Now, the world is just three years away (or two, depending on who you ask) from its first 5G commercial service. Amid the jubilance, reality is also starting to set in." – Read More
At Brooklyn summit, a new world of 5G on display
Technical.ly Brooklyn
"When we move from 4G wireless to 5G wireless it will be like society having a 'digital nervous system limited only by device physics, chemistry, materials and the speed of light.'
So, at least, says Dr. Kenneth C. Budka, a senior partner at the consulting arm of the storied Bell Labs (which was acquired by summit co-sponsor Nokia in 2015). Budka, and others who spoke at the event Thursday envisioned a future where cell data is so fast, strong, and quick, that the equivalent of super powered WiFi will be all around us, unconstrained by routers and modems and fiber cable. That vision has a lot of impact for the kinds of technology that could thrive in such an environment.
Budka was speaking at the 4th annual Brooklyn 5G Summit, held at the NYU Tandon School of Engineering. This year's Big Question: How close are we to making this real?" – Read More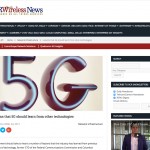 Lessons that 5G should learn from other technologies
RCR Wireless News
"5G development should take to heart a number of lessons that the industry has learned from previous generations of technology, former CTO of the Federal Communications Commission and Columbia University professor Henning Schulzrinne told the audience at last week's Brooklyn 5G Summit.
Schulzrinne, who currently serves as a technical advisor to the FCC, pointed out that the telecom industry doesn't have a great track record of being able to accurately predict which use cases will become major drivers for a new generation of technology. Previous generations of mobile technology were typically built with some general expectations for what would be the primary jump forward, Schulzrinne said — and the industry ends up being surprised by what actually ends up spurring usage and adoption. In 2G, carriers touted the improved quality of digital voice — but the surprise was the quick adoption of SMS. For 3G, he said, operators looked to WAP to boost usage, and found that users really wanted access to the open Internet rather than walled gardens. For LTE, operators wanted to leverage carrier-centric IMS, but instead usage has been dominated by over-the-top apps such as YouTube, WhatsApp and others." – Read More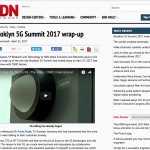 Brooklyn 5G Summit 2017 wrap-up
EDN Network
"Lauri Oksanen, VP Research and Technology at NSN-Nokia Solutions and Networks gave a nice summary wrap-up of the two-day Brooklyn 5G Summit that ended today on April 21, 2017. Oksanen referenced Dr. Frank Fitzek, TU Dresden, Germany who had commented that first time providers were talking to their customers already.
Seizo Onoe, CTO at NTT DoCoMo said that we should all jump on the 5G bandwagon and talk about it. The reason is that 5G can create new business and ecosystems by collaboration between industries and verticals. One excellent example of a benefit is connected cars, which was discussed quite a bit at this summit." – Read More
---
Additional Publications
A big part of Intel's 5G strategy: Altera FPGAs and the mobile trial platform
Brooklyn 5G Summit Showcases Advanced Research And Technology Fueling 5G WirelessDrive To Commercial Reality
Fourth Annual Brooklyn 5G Summit Will Be A Show-And-Tell By Leading Operators, Researchers and Startups
The 2017 Brooklyn 5G Summit Affirmed Tandon's Role As A Research Leader In Next-Generation Communications
Must-See TV for Anyone in Wireless: 5G BROOKLYN APRIL 20-21
Nokia Aims to Take Guesswork Out of 5G Business Plans
5G Summit Panel Optimistic About Industry Meeting December Deadline for 5G NSA
Brooklyn 5G Summit 2017 Wrap-Up
5G: How close are we to commercial reality?