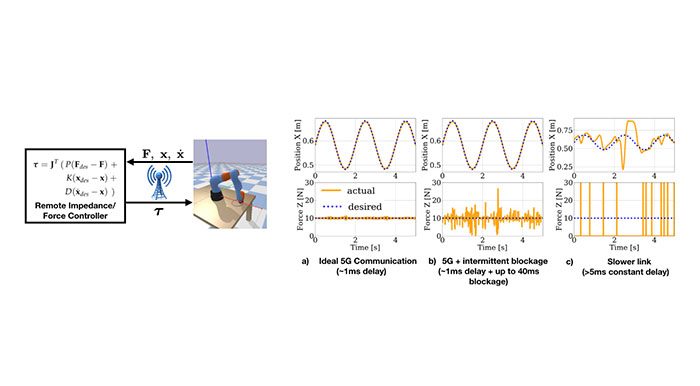 The millimeter wave (mmWave) bands and frequencies above 6~GHz offers unprecedented access to high bandwidth and low latency communication. Together with core network modifications to support edge computing, they are central components of the recently-developed Fifth Generation New Radio (5G NR) standard which promises to offer 80x increase in network capacity and 10x decrease in latency.
These massive performance gains are a unique opportunity to offload computationally demanding real-time action-perception loops to the network edge while enabling easier multi-robot coordination and physical human-robot interactions. Yet, formidable challenges remain to ensure communication reliability, control safety and scalability to high-bandwidth multi-robot systems. For instance, robustness of operation can be impaired by unavoidable intermittent blockage that can last longer than 100ms. While during blockage, the communication link can fall back to 4G, preventing total loss of communication, this is not sufficient to guarantee stable closed-loop control on the network edge due to increased latency.
We illustrate these issues in a simulation of a simple contact interaction task in Figure 1. The blockage issue is specific to mmWave communication and cannot be readily addressed by control designs that incorporate delays typical of networked control systems except at the cost of a very conservative control design given the typical duration of a blockage event. NYU WIRELESS is currently investigating approaches for control and perception for highly autonomous mobile robots over the 5G edge.
RESEARCH PAPERS
---
Citation
View Papers
Research Areas
Date

Tingjun Chen, Prasanthi Maddala, Panagiotis Skrimponis, Jakub Kolodziejski, Xiaoxiong Gu, Arun Paidimarri, Sundeep Rangan, Gil Zussman, and Ivan Seskar. 2022. Programmable and Open-Access Millimeter-Wave Radios in the PAWR COSMOS Testbed. In Proceedings of the 15th ACM Workshop on Wireless Network Testbeds, Experimental evaluation & CHaracterization (WiNTECH'21). Association for Computing Machinery, New York, NY, USA, 1–8. DOI:https://doi.org/10.1145/3477086.3480834

Affiliate Access Only

mobile edge, Terahertz Comms & Sensing, testbeds
January 31, 2022

D. Roberts, A. Srivastava, F. Fund and S. S. Panwar, "Tackling the latency divide with Copa," IEEE INFOCOM 2021 – IEEE Conference on Computer Communications Workshops (INFOCOM WKSHPS), 2021, pp. 1-2, doi: 10.1109/INFOCOMWKSHPS51825.2021.9484571.

Affiliate Access Only

mobile edge
May 10, 2021

M. F. Ozkoc, A. Koutsaftis, R. Kumar, P. Liu, and S. Panwar, "The Impact of Multi-Connectivity and Handover Constraints on Millimeter Wave and Terahertz Cellular Networks", IEEE J. Sel. Areas Commun., 10.1109/JSAC.2021.3071852

Affiliate Access Only

mobile edge, terahertz
March 1, 2021

C. Tunc, M. F. Ozkoc, F. Fund, and S. Panwar, "The Blind Side: Latency Challenges in Millimeter Wave Networks for Connected Vehicle Applications," IEEE Transactions on Vehicular Technology, pp. 1–1, 2020.

Affiliate Access Only

5g and 6g apps, mobile edge
December 22, 2020

Srivastava, Ashutosh, Fraida Fund, and Shivendra Panwar. "A Low Latency Congestion Control That Can Compete." Proceedings of the Student Workshop. 2020.

Affiliate Access Only

5g and 6g apps, mobile edge
December 1, 2020

C. Tunc and S. Panwar, "Analysis of Outage Probability and Duration in Millimeter Wave Vehicle-to-Infrastructure Networks," 2020 IEEE 92nd Vehicular Technology Conference (VTC2020-Fall), Victoria, BC, Canada, 2020, pp. 1-7, doi: 10.1109/VTC2020-Fall49728.2020.9348693.

Affiliate Access Only

5g and 6g apps, mobile edge
November 18, 2020

D. Raychaudhuri, I. Seskar, G. Zussman, T. Korakis, D. Kilper, T. Chen, J. Kolodziejski, M. Sherman, Z. Kostic, X. Gu, H. Krishnaswamy, S. Maheshwari, P. Skrimponis, C. Gutterman, "Challenge: COSMOS: A city-scale programmable testbed for experimentation with advanced wireless," In Proceedings of the 26th Annual International Conference on Mobile Computing and Networking (MobiCom '20) 2020

Affiliate Access Only

5g and 6g apps, mobile edge, terahertz, testbeds
September 21, 2020

A. Srivastava, F. Fund, and S. Panwar, "An experimental evaluation of low latency congestion control for mmwave links," in 2020 IEEE INFOCOM WKSHPS: CNERT 2020: Computer and Networking Experimental Research using Testbeds (INFOCOM 2020 WKSHPS CNERT 2020), Jul. 2020.

Affiliate Access Only

5g and 6g apps, mobile edge
July 6, 2020

D. Raychaudhuri, I. Seskar, G. Zussman, T. Korakis, D. Kilper, T. Chen, J. Kolodziejski, M. Sherman, Z. Kostic, X. Gu, H. Krishnaswamy, S. Maheshwari, P. Skrimponis, and C. Gutterman, "Challenge: COSMOS: A city-scale programmable testbed for experimentation with advanced wireless," In Proceedings of the 26th Annual International Conference on Mobile Computing and Networking (MobiCom '20).

Affiliate Access Only

mobile edge, testbeds
April 16, 2020

C. Tunc and S. Panwar, "Optimal Transmission Policies for Energy Harvesting Age of Information Systems with Battery Recovery," 2019 53rd Asilomar Conference on Signals, Systems, and Computers, Pacific Grove, CA, USA, 2019, pp. 2012-2016, doi: 10.1109/IEEECONF44664.2019.9048659.

Affiliate Access Only

5g and 6g apps, mobile edge
November 3, 2019

A. Koutsaftis, R. Kumar, P. Liu, S. Panwar, "Fast Inter-Base Station Ring (FIBR): A New Millimeter Wave Cellular Network Architecture" IEEE Journal on selected area of communication, Oct. 2019

Affiliate Access Only

5g and 6g apps, mobile edge
October 23, 2019

C. Tunc, M. F. Ozkoc, S. Panwar, "Millimeter Wave Coverage and Blockage Duration Analysis for Vehicular Communications" 2019 IEEE 90th Vehicular Technology Conference (VTC2019-Fall), Honolulu, HI, USA, pp. 1-6., 2019

Affiliate Access Only

5g and 6g apps, mobile edge
September 22, 2019

Y. Wang, Z. Jiao, Q. Yao, L.M. Balescu, Q. Liu, B. Tang, H.J.W. Zandvliet, "Structural and electronic properties of the α-GeSe surface," Surface science 686, 17-21, Aug. 2019

Affiliate Access Only

mobile edge, quantum devices
August 1, 2019

J. Yu, Y. Liu, "Field-of-view prediction in 360-degree videos with attention-based neural encoder-decoder networks," Proceedings of the 11th ACM Workshop on Immersive Mixed and Virtual Environment Systems, June 2019

Affiliate Access Only

mobile edge
June 18, 2019

L. Mei, R. Hu, H. Cao, Y. Liu, Z. Han, F. Li, J. Li, "Realtime Mobile Bandwidth Prediction Using LSTM Neural Network," International Conference on Passive and Active Network Measurement, 34-47, May 2019

Affiliate Access Only

mobile edge
May 28, 2019

G. Li, Y. Liu, B. Ribeiro, H. Ding, "On group popularity prediction in event-based social networks", IEEE Transactions on Network Science and Engineering, May 2019

Affiliate Access Only

mobile edge
May 14, 2019

C. Li, W. Zhang, Y. Liu, Y. Wang, "Very Long Term Field of View Prediction for 360-degree Video Streaming," 2019 IEEE Conference on Multimedia Information Processing and Retrieval (MIPR), May 2019

Affiliate Access Only

mobile edge
May 7, 2019

S. Xu, P. Liu, R. Wang, and S. Panwar, "Realtime scheduling and power allocation using deep neural networks," in 2019 IEEE Wireless Communications and Networking Conference (WCNC) (IEEE WCNC 2019), Marrakech, Morocco, Apr. 2019.

Affiliate Access Only

machine learning, mobile edge
April 14, 2019

M. E. Knox. "Passive Interference Cancellation in a 2×2 STAR MIMO Antenna Network". IEEE International Workshop on AntennaTechnology (iWAT) 2019, Recipient of Best Paper/Post award.

Affiliate Access Only

mobile edge
April 2, 2019

C. Tunc, S. Panwar, "Optimal Transmission Policies for Energy Harvesting Age of Information Systems with Battery Recovery" 2019 53rd Asilomar Conference on Signals, Systems, and Computers, Pacific Grove, CA, USA, pp. 2012-2016, 2019

Affiliate Access Only

mobile edge
March 11, 2019

M. Knox, "Passive Interference Cancellation in a 2×2 STAR MIMO Antenna Network," IEEE International Workshop on Antenna Technology (iWAT), March 2019.

Affiliate Access Only

mobile edge
March 1, 2019

L. Sun, F. Duanmu, Y. Liu, Y. Wang, Y. Ye, H. Shi, D. Dai, "A two-tier system for on-demand streaming of 360 degree video over dynamic networks," IEEE Journal on Emerging and Selected Topics in Circuits and Systems, Feb 2019

Affiliate Access Only

mobile edge
February 12, 2019

A. Khalili, F. Shirani, E. Erkip, and Y. C. Eldar, "On multiterminal communication over MIMO channels with one-bit ADCs at the receivers," arXiv preprint arXiv:1901.10628, 2019.

Affiliate Access Only

machine learning, mobile edge
January 30, 2019

Y. Wang, Q. Yao, Z. Jiao, P. Bampoulis, L. Zhang, A.N. Rudenko, M.I. Katsnelson, "Charge puddles in germanene," Applied physics letters 114 (4), 041601

Affiliate Access Only

mobile edge
January 28, 2019

A. Khalili, F. Shirani, E. Erkip, and Y. C. Eldar, "Tradeoff between delay and high SNR capacity in quantized MIMO systems," arXiv preprintarXiv:1901.09844, 2019.

Affiliate Access Only

machine learning, mobile edge
January 28, 2019

P. Hassanzadeh, A. Tulino, J. Llorca, and E. Erkip, "Rate-Memory Trade-Off for Caching and Delivery of Correlated Sources," IEEE Transactions on Information Theory, 2018

Affiliate Access Only

mobile edge
December 1, 2018

S. Shahsavari, F. Shirani, and E. Erkip, "Opportunistic temporal fair scheduling for non-orthogonal multiple access," IEEE 56th Allerton Conference on Communication, Control, and Computing, 2018.

Affiliate Access Only

mobile edge
October 2, 2018

S. Shahsavari, F. Shirani, and E. Erkip, "A general framework for temporal fair user scheduling in NOMA systems," in IEEE Journal of Selected Topics in Signal Processing, 2019

Affiliate Access Only

mobile edge
September 17, 2018

Chenge Li, Gregory Dobler, Yilin Song, Xin Feng, Yao Wang "TrackNet: TrackNet: Simultaneous Detection and Tracking of Multiple Objects".

Affiliate Access Only

Computer Vision, mobile edge
September 14, 2018

I. K. Jain, R. Kumar, S. Panwar, "Driven by Capacity or Blockage? A Millimeter Wave Blockage Analysis," IEEE ITC30, Sep. 2018.

Affiliate Access Only

mobile edge, terahertz
September 1, 2018

I. K. Jain, R. Kumar, S. Panwar, "Can Millimeter Wave Cellular Systems provide High Reliability and Low Latency? An analysis of the impact of Mobile Blockers," e-print in arXiv.org:1807.04388, Jul. 2018.

Affiliate Access Only

mobile edge, terahertz
July 1, 2018

P. Hassanzadeh, A. Tulino, J. Llorca, E. Erkip, "On Coding for Cache-Aided Delivery of Dynamic Correlated Content," in IEEE Journal on Special Areas in Communications, June 2018.

Affiliate Access Only

mobile edge
June 1, 2018

Q. Yang, P. Hassanzadeh, D. Gündüz, E. Erkip, "Centralized Caching and Delivery of Correlated Contents over a Gaussian Broadcast Channel," in Proceedings of IEEE International Symposium on Modeling and Optimization in Mobile, Ad Hoc, and Wireless Networks (WiOpt), May 2018.

Affiliate Access Only

mobile edge
May 19, 2018

Liyang Sun, Guibin Tian, Guanyu Zhu, Yong Liu, Hang Shi, and David Dai,
"Multipath IP Routing on End Devices: Motivation, Design, and Performance",
in the Proceedings of IFIP Networking 2018 Conference, May 2018.

Affiliate Access Only

Computer Networks, mobile edge
May 1, 2018

S. Shahsavari, F. Fund, E. Erkip, S. Panwar, "Capturing capacity and profit gains with base station sharing in mmWavecellular networks," in IEEE INFOCOM Workshops, Millimeter-Wave Networked Systems (mmSys), 2018

Affiliate Access Only

mobile edge
April 26, 2018

S. Shahsavari, A. Ashikhmin, E. Erkip, and T. L. Marzetta, "Coordinated multi-point massive MIMO cellular systems with sectorized antennas," 52nd IEEE Asilomar Conference on Signals, Systems, and Computers, 2018.

Affiliate Access Only

machine learning, mobile edge
February 20, 2018

N. V. Shende, Ö. Gürbüz and E. Erkip, "Half-Duplex or Full-Duplex Communications: Degrees of Freedom Analysis Under Self-Interference," in IEEE Transactions on Wireless Communications, vol. 17, no. 2, pp. 1081-1093, Feb. 2018.

Affiliate Access Only

mobile edge, terahertz
February 10, 2018

S. Shahsavari, A. Hosseini, C. Ng, E. Erkip, "Adaptive hybrid beamforming with massive phased arrays in macro-cellular networks," IEEE 5G World Forum, 2018.

Affiliate Access Only

mobile edge
February 3, 2018

R. Kumar, R. Margolies, R. Jana, Y. Liu, S. Panwar, "WiLiTV: Reducing Live Satellite TV Costs using Wireless Relays", in IEEE Journal on Selected Areas in Communications, February, 2018.

Affiliate Access Only

5g and 6g apps, Distributed Core, mobile edge, terahertz
February 1, 2018

R. Kumar, A. Francini, S. Panwar, and S. Sharma, "Dynamic Control of RLC Buffer Size for Latency Minimization in Mobile RAN," in Proc. of IEEE WCNC, Apr. 2018.

Affiliate Access Only

Distributed Core, mobile edge
January 24, 2018

P. Hassanzadeh, A. Tulino, J. Llorca, E. Erkip, "Broadcast Caching Networks with Two Receivers and Multiple Correlated Sources," in Proceedings of IEEE Asilomar Conference on Signals, Systems and Computers (Asilomar), October 2017.

Affiliate Access Only

mobile edge
October 1, 2017

Bo Yan, Shu Shi, Yong Liu, Weizhe Yuan, Haoqin He, Rittwik Jana, Yang Xu, and H.Jonathan Chao, "LiveJack: Integrating CDNs and Edge Clouds for Live Content Broadcasting", in the Proceedings of ACM Multimedia, October 2017.

Affiliate Access Only

mobile edge, video
October 1, 2017

M. Polese, M. Giordani, M. Mezzavilla, S. Rangan, M. Zorzi, "Improved Handover Through Dual Connectivity in 5G mmWave Mobile Networks," in IEEE Journal on Selected Areas in Communications, vol.PP, no.99, pp.1-1, June 2017.

Affiliate Access Only

mobile edge, terahertz
June 27, 2017

R. Ford, S. Rangan, E. Mellios, D. Kong and A. Nix, "Markov Channel-Based Performance Analysis for Millimeter Wave Mobile Networks," 2017 IEEE Wireless Communications and Networking Conference (WCNC), San Francisco, CA, 2017, pp. 1-6.

Affiliate Access Only

mobile edge, terahertz
June 1, 2017

P. Hassanzadeh, A. Tulino, J. Llorca, E. Erkip "Rate-Memory Trade-off for the Two-User Broadcast Caching Network with Correlated Sources", in Proc. IEEE International Symposium Information Theory (ISIT), June 2017.

Affiliate Access Only

Cache-Aided Wireless Networks, mobile edge
June 1, 2017

S. Xu, P. Liu, and S. Panwar "Exploiting network similarity for latency prediction of edge devices," 2017 IEEE International Conference on Communications (ICC), Paris, France, May 2017​.​

Affiliate Access Only

mobile edge
May 1, 2017

Z. Cao, S. Panwar, M. Kodialam, T. Lakshman, "Enhancing Mobile Networks With Software Defined Networking and Cloud Computing," in IEEE/ACM Transactions on Networking , vol.PP, no.99, pp.1-14.

Affiliate Access Only

Distributed Core, mobile edge
April 11, 2017

M. Polese, R. Jana, M. Zorzi, "TCP in 5G mmWave Networks: Link Level Retransmissions and MP-TCP," to be presented at 2017 IEEE Conference on Computer Communications Workshops (INFOCOM WKSHPS), Atlanta, USA, May 2017.

Affiliate Access Only

mobile edge, terahertz
April 4, 2017

S. Goyal, P. Liu, and S. Panwar. "Scheduling and power allocation in self-backhauled full duplex small cells." 2017 IEEE International Conference on Communications (ICC). IEEE, 2017.

Affiliate Access Only

mobile edge
April 2, 2017

R. Ford, A. Sridharan, R. Margolies, R. Jana, S. Rangan "Provisioning Low Latency, Resilient Mobile Edge Clouds for 5G" arXiv:1703.10915 [cs.NI].

Affiliate Access Only

mobile edge, terahertz
March 31, 2017

R. Ford, M. Zhang, M. Mezzavilla, S. Dutta, S. Rangan and M. Zorzi, "Achieving Ultra-Low Latency in 5G Millimeter Wave Cellular Networks," in IEEE Communications Magazine, vol. 55, no. 3, pp. 196-203, March 2017.

Affiliate Access Only

mobile edge, terahertz
March 3, 2017

F. Fund, S. Shahsavari, S. S. Panwar, E. Erkip, S. Rangan, "Resource Sharing Among mmWave Cellular Service Providers in a Vertically Differentiated Duopoly," France, 2017, pp. 1-7.

Affiliate Access Only

mobile edge, terahertz
February 22, 2017

F. Fund, S. Shahsavari, S. Panwar, E. Erkip, S. Rangan, "Resource sharing among mmWave cellular service providers in a vertically differentiated duopoly," in Proceedings of International Conference on Communications (ICC), Next Generation Networking and Internet Symposium, 2017.

Affiliate Access Only

mobile edge
February 20, 2017

S. Shahsavari, D. Ramirez, and E. Erkip, "Joint User Scheduling and Power optimization in Full-Duplex Cells
with Successive Interference Cancellation," 51st IEEEAsilomar Conference on Signals, Systems, and Computers, 2017.

Affiliate Access Only

mobile edge
February 20, 2017

M. Polese, M. Mezzavilla, S. Rangan, M. Zorzi, "Mobility Management for TCP on mmWave Networks", mmNets 2017.

Affiliate Access Only

mobile edge, terahertz
January 13, 2017

M. Polese, M. Zhang, M. Mezzavilla, J. Zhu, S. Rangan, S. Panwar, M. Zorzi, "A Split TCP Proxy Architecture for 5G mmWave Cellular Systems", Asilomar 2017.

Affiliate Access Only

mobile edge, terahertz
January 13, 2017

F. Fund, S. Shahsavari, S. S. Panwar, E. Erkip, and S. Rangan, "Do open resources encourage entry into the millimeter wave cellular service market?" in Proceedings of the Eighth Wireless of the Students, by the Students, and for the Students Workshop (S3), New York, NY, Oct. 2016, pp. 12–14.

Affiliate Access Only

mobile edge
October 1, 2016

S. Goyal, C. Galiotto, N. Marchetti and S. Panwar (2016). Throughput and Coverage of a Mixed Full and Half Duplex Small Cell Network. Proceedings of the IEEE International Conference on Communications (ICC) 2016, Best Paper Award of ICC 2016.

Affiliate Access Only

mobile edge
April 2, 2016

S. Goyal, P. Liu, S. Panwar, R. A. DiFazio, R. Yang, E. Bala, "Full duplex cellular systems: Will doubling interference prevent doubling capacity?" IEEE Communications Magazine, May 2015.

Affiliate Access Only

mobile edge
May 14, 2015

T. Lu, Pei Liu, S. Panwar, "Shining a Light into the Darkness: How Cooperative Relay Communication Mitigates Correlated Shadow Fading," 2015 IEEE 81st Vehicular Technology Conference (VTC Spring).

Affiliate Access Only

mobile edge
April 13, 2015

T. Lu, Pei Liu, S. Panwar "How long before I regain my signal," 2015 49th Conference on Information Sciences and Systems (CISS).

Affiliate Access Only

mobile edge
April 13, 2015

Y. Zaki, T. Potsch, J. Chen, T. Ahmad, L. Subramanian "Dissecting Web Latency in Ghana," ACM Internet Measurement Conference (IMC), 2014.

Affiliate Access Only

mobile edge
November 5, 2014

"Cost-aware Mobile Web Browsing," IEEE Pervasive Computing, September 2012.

Affiliate Access Only

mobile edge
March 6, 2012

Jay Chen, Lakshminarayanan Subramanian, Eric Brewer," SMS-based Web Search on Low-end Mobile Devices," ACM MOBICOM, 2010

mobile edge
September 20, 2010