Dynamic Channel Models and Blockage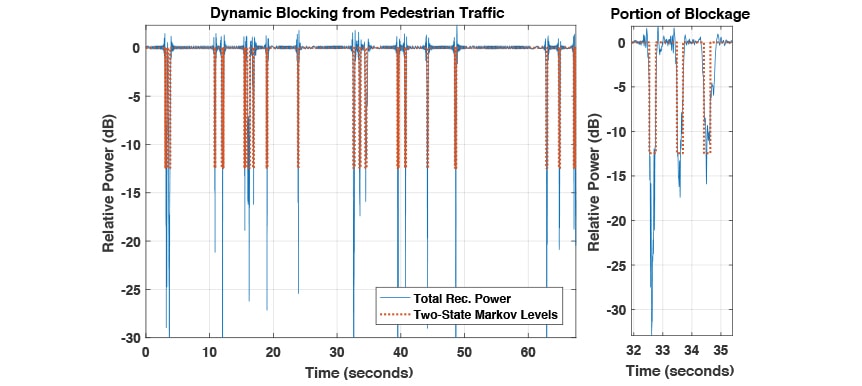 Large-scale propagation characteristics of mmWave frequencies have been heavily studied in recent years for coverage and interference analysis, but channel dynamics and the effects of human blockage have received less attention. MmWave signals are more susceptible to blockages than sub-6 GHz frequencies, partly due to reduced diffraction and the smaller wavelengths of higher frequencies that result in more diffuse scattering. Recent work has proven that diffraction is much less significant for common materials in indoor as compared to outdoor environments at 10, 20, and 26 GHz where signal attenuation was observed to be more than 20 dB in the deep shadow region.

Indoor human blockage measurements indicate rapid and deep signal attenuation by up to 40 dB or more when the blocker is close to either the TX or RX antenna with average fade durations of 200 to 300 ms with a human blocker moving at a pace of 1 m/s between the direct path between the TX and RX. Dynamic channel measurements were also conducted for a peer-to-peer outdoor scenario to study the effects of dynamic human blockage at mmWaves in a typical urban small-cell environment with large pedestrian crowds. Measurement data will be used to model blockage event characteristics such as rapid signal attenuation and the duration of blockage events. Such analysis will be vital for designing physical layer and higher layer protocols and frame structures for mmWave systems that will rely on the flexibility of rapid beam switching techniques to find secondary reflections and scatterers when a main cluster or reflection is blocked, in order to consistently maintain a mmWave link.
PEOPLE
George R. MacCartney, Jr. and Theodore S. Rappaport
RESEARCH PAPERS
---
Citation
View Papers
Research Areas
Date

Y. Xing, and T. S. Rappaport. "Millimeter wave and terahertz urban microcell propagation measurements and models." IEEE Communications Letters 25, no. 12 (2021): 3755-3759.

Affiliate Access Only

5g and 6g apps, mmwave rappaport, terahertz
March 8, 2023

S. Ju, Y. Xing, O. Kanhere, and T. S. Rappaport. "Sub-terahertz channel measurements and characterization in a factory building." In ICC 2022-IEEE International Conference on Communications, pp. 2882-2887. IEEE, 2022.

Affiliate Access Only

5g and 6g apps, mmwave rappaport, terahertz
March 8, 2023

S. Ju, and T. S. Rappaport. "142 GHz Multipath Propagation Measurements and Path Loss Channel Modeling in Factory Buildings." 2023 IEEE International Conference on Communications (ICC), May. 2023, pp. 1-6.

Affiliate Access Only

5g and 6g apps, mmwave rappaport, terahertz
March 8, 2023

H. Poddar, T. Yoshimura, M. Pagin, T. S. Rappaport, A. Ishii, and M. Zorzi. "Full-Stack End-To-End mmWave Simulations Using 3GPP and NYUSIM Channel Model in ns-3." 2023 IEEE International Conference on Communications (ICC), May. 2023, pp. 1-6

Affiliate Access Only

5g and 6g apps, mmwave rappaport, terahertz
March 6, 2023

S. Ju and T. S. Rappaport, "Sub-Terahertz Spatial Statistical MIMO Channel Model for Urban Microcells at 142 GHz," 2021 IEEE Global Communications Conference (GLOBECOM), Dec. 2021, pp. 1-6.

Affiliate Access Only

terahertz
December 16, 2021

S. Ju and T. S. Rappaport, "140 GHz Urban Microcell Propagation Measurements for Spatial Consistency Modeling," 2021 IEEE International Conference on Communications (ICC), Jun. 2021, pp. 1-6.

Affiliate Access Only

terahertz, testbeds
June 14, 2021

Y. Xing and T. S. Rappaport, "Terahertz Wireless Communications: Co-sharing for Terrestrial and Satellite Systems above 100 GHz," in IEEE Communications Letters, June 2021, doi: 10.1109/LCOMM.2021.3088270.

Affiliate Access Only

5G & 6G Apps, terahertz
June 10, 2021

P. Skrimponis, S. Hadi Mirfarshbafan, C. Studer and S. Rangan, "Power Efficient Multi-Carrier Baseband Processing for 5G and 6G Wireless," 2020 54th Asilomar Conference on Signals, Systems, and Computers, 2020, pp. 324-330, doi: 10.1109/IEEECONF51394.2020.9443544.

Affiliate Access Only

quantum devices, terahertz
June 3, 2021

S. Ju, Y. Xing, O. Kanhere and T. S. Rappaport, "Millimeter Wave and Sub-Terahertz Spatial Statistical Channel Model for an Indoor Office Building," in IEEE Journal on Selected Areas in Communications, vol. 39, no. 6, pp. 1561-1575, June 2021.

Affiliate Access Only

terahertz, testbeds
June 1, 2021

S. Ju, Y. Xing, O. Kanhere and T. S. Rappaport, "Millimeter-Wave and Sub-Terahertz Spatial Statistical Channel Model for an Indoor Office Building," in IEEE Journal on Selected Areas in Communications, vol. 39, no. 6, pp. 1561-1575, June 2021. https://ieeexplore.ieee.org/abstract/document/9411894

Affiliate Access Only

terahertz
June 1, 2021

Y. Xing and T. S. Rappaport, "Propagation Measurements and Path Loss Models for sub-THz in Urban Microcells," 2021 IEEE International Conference on Communications, June 2021, pp. 1-6. https://arxiv.org/pdf/2103.01151.pdf

Affiliate Access Only

5g and 6g apps, terahertz
June 1, 2021

O. Kanhere and T. S. Rappaport, "Outdoor sub-THz Position Location and Tracking using Field Measurements at 142 GHz," in 2021 IEEE International Conference on Communications (ICC), June 2021, pp. 1–6.

Affiliate Access Only

5g and 6g apps, terahertz
June 1, 2021

M. F. Ozkoc, A. Koutsaftis, R. Kumar, P. Liu, and S. Panwar, "The Impact of Multi-Connectivity and Handover Constraints on Millimeter Wave and Terahertz Cellular Networks", IEEE J. Sel. Areas Commun., 10.1109/JSAC.2021.3071852

Affiliate Access Only

mobile edge, terahertz
March 1, 2021

Y. Xing and T. S. Rappaport, "Terahertz Wireless Communications: Research Issues and Challenges for Active and Passive Systems in Space and on the Ground above 100 GHz (Invited Paper)," submitted to 2021 IEEE Communications Letters, Feb. 2021, pp. 1-5. https://arxiv.org/abs/2103.00604

Affiliate Access Only

5g and 6g apps, terahertz
February 22, 2021

Y. Xing, T. S. Rappaport, and A. Ghosh, "Millimeter Wave and sub-THz Indoor Radio Propagation Channel Measurements, Models, and Comparisons in an Office Environment (Invited Paper)," submitted to 2021 IEEE Communications Letters, Feb. 2021, pp. 1-5. https://arxiv.org/abs/2103.00385

Affiliate Access Only

5g and 6g apps, terahertz
February 22, 2021

O. Kanhere and T. S. Rappaport, "Position Location for Futuristic Cellular Communications: 5G and Beyond," in IEEE Communications Magazine, vol. 59, no. 1, pp. 70-75, January 2021

Affiliate Access Only

5g and 6g apps, terahertz
February 17, 2021

P. Skrimponis, N. Hosseinzadeh, A. Khalili, E. Erkip, M. J. W. Rodwell, J. F. Buckwalter, and S. Rangan, "Towards Energy Efficient Mobile Wireless Receivers Above 100 GHz," in IEEE Access, vol. 9, pp. 20704-20716, 2021, doi: 10.1109/ACCESS.2020.3044849.

Affiliate Access Only

quantum devices, terahertz
December 15, 2020

S. Ju, Y. Xing, O. Kanhere and T. S. Rappaport, "3-D Statistical Indoor Channel Model for Millimeter-Wave and Sub-Terahertz Bands," 2020 IEEE Global Communications Conference (GLOBECOM), Dec. 2020, pp. 1-7.

Affiliate Access Only

terahertz, testbeds
December 7, 2020

Aditya Chopra, Andrew Thornburg, Ojas Kanhere, Abbas Termos, Saeed S. Ghassemzadeh, and Theodore S. Rappaport "Real-time Millimeter Wave Omnidirectional Channel Sounder Using Phased Array Antennas",in GLOBECOM 2020 – 2020 IEEE Global Communications Conference,Taipei, Taiwan, Dec. 2020, pp. 1–7

Affiliate Access Only

5g and 6g apps, terahertz
December 7, 2020

O. Kanhere and T. S. Rappaport, "Millimeter Wave Position Location using Multipath Differentiation for 3GPP using Field Measurements," in GLOBECOM 2020 – 2020 IEEE Global Communications Conference, Taipei, Taiwan, Dec. 2020, pp. 1–7.

Affiliate Access Only

terahertz, testbeds
December 7, 2020

D. Raychaudhuri, I. Seskar, G. Zussman, T. Korakis, D. Kilper, T. Chen, J. Kolodziejski, M. Sherman, Z. Kostic, X. Gu, H. Krishnaswamy, S. Maheshwari, P. Skrimponis, C. Gutterman, "Challenge: COSMOS: A city-scale programmable testbed for experimentation with advanced wireless," In Proceedings of the 26th Annual International Conference on Mobile Computing and Networking (MobiCom '20) 2020

Affiliate Access Only

5g and 6g apps, mobile edge, terahertz, testbeds
September 21, 2020

S. H. A. Shah, M. Sharma, S.Rangan, "LSTM-Based Multi-Link Prediction for mmWaveand Sub-THz Wireless Systems" accepted in 2020 IEEE International Conference on Communications (ICC), pp. 1–6, June 2020

Affiliate Access Only

machine learning, terahertz
June 11, 2020

A. Pizzo, T. L. Marzetta and L. Sanguinetti, "Spatially-Stationary Model for Holographic MIMO Small-Scale Fading," in IEEE Journal on Selected Areas in Communications, doi: 10.1109/JSAC.2020.3000877.

Affiliate Access Only

terahertz
June 8, 2020

W. Xia, V. Semkin, M. Mezzavilla, G. Loianno, S. Rangan, "Multi-Array Designs for mmWave and Sub-THz Communication to UAVs," in 21st IEEE International Workshop on Signal Processing Advances in Wireless Communications (SPAWC), 2020

Affiliate Access Only

5g and 6g apps, terahertz
May 29, 2020

P. Skrimponis, S. Dutta, M. Mezzavilla, S. Rangan, S. H. Mirfarshbafan, C. Studer, J. Buckwalter, and M. Rodwell, "Power Consumption Analysis for Mobile MmWave and Sub-THz Receivers," 2020 2nd 6G Wireless Summit (6G SUMMIT), Levi, Finland, 2020

Affiliate Access Only

terahertz
March 17, 2020

Shihao Ju, Ojas Kanhere, Yunchou Xing and Theodore S. Rappaport, "A Millimeter-Wave Channel Simulator NYUSIM with Spatial Consistency and Human Blockage" in Proc. IEEE 2019 Global Communications Conference, pp. 1–7, Dec. 2019.

Affiliate Access Only

5g and 6g apps, terahertz
December 26, 2019

O. Kanhere, S. Ju, Y. Xing, and T. S. Rappaport, "Map-Assisted Millimeter Wave Localization for Accurate Position Location," in Proc. IEEE 2019 Global Communications Conference, pp. 1–6, Dec. 2019.

Affiliate Access Only

5g and 6g apps, terahertz
December 26, 2019

Y. Xing, O. Kanhere, S. Ju, and T. S. Rappaport, "Indoor Wireless Channel Properties at Millimeter Wave and Sub-Terahertz Frequencies: Reflection, Scattering, and Path Loss," in Proc. IEEE 2019 Global Communications Conference, pp. 1–6, Dec. 2019.

Affiliate Access Only

5g and 6g apps, mmwave rappaport, terahertz
December 26, 2019

R. Kumar, A. Francini, S. Panwar, and S. Sharma, "Design of an Enhanced Bearer Buffer for Latency Minimization in the Mobile RAN," in Proc. of IEEE GLOBECOM, Dec. 2019.

Affiliate Access Only

terahertz
December 1, 2019

A. Alizadeh, M. Vu and T. S. Rappaport, "A Study of Interference Distributions in Millimeter Wave Cellular Networks," 2019 IEEE International Conference on Microwaves, Antennas, Communications and Electronic Systems (COMCAS), Tel-Aviv, Israel, Nov. 2019, pp. 1-6.

Affiliate Access Only

terahertz
November 19, 2019

T. S. Rappaport, "Wireless Beyond 100 GHz: Opportunities and Challenges for 6G and Beyond," IEEE COMCAS Conference Keynote, Tel Aviv, Israel, Nov. 2019

Affiliate Access Only

5g and 6g apps, terahertz
November 10, 2019

T.S. Rappaport, Y. Xing, O. Kanhere, S. Ju, et al, "Wireless Communications and Applications Above 100 GHz: Opportunities and Challenges for 6G and Beyond," IEEE, June 2019

Affiliate Access Only

terahertz
June 28, 2019

S Rangan, P Schniter, AK Fletcher, "Vector Approximate Message Passing," IEEE Transactions on Information Theory, 2019

Affiliate Access Only

terahertz
May 13, 2019

S Sarkar, AK Fletcher, S Rangan, P Schniter, "Bilinear recovery using adaptive vector-AMP," IEEE Transactions on Signal Processing 67 (13), 3383-3396, May 10, 2019

Affiliate Access Only

terahertz
May 10, 2019

G.R. MacCartney, T.S. Rappaport, "Millimeter-wave base station diversity for 5G coordinated multipoint (CoMP) applications," IEEE Transactions on Wireless Communications, May 2019

Affiliate Access Only

terahertz
May 3, 2019

S. Ju, S. Shah, M. Javed, J. Li, G. Palteru, J. Robin, Y. Xing, O. Kanhere, and T. S. Rappaport, "Scattering Mechanisms and Modeling for Terahertz Wireless Communications," arXiv preprint arXiv:1903.02657, 2019

Affiliate Access Only

terahertz
May 1, 2019

R. Kumar, A. Koutsaftis, F. Fund, G. Naik, P. Liu, Y. Lui, and S. Panwar, "TCP BBR for Ultra-Low Latency Networking: Challenges, Analysis, and Solutions," Proc. of IFIP Networking Conference, May 2019.

Affiliate Access Only

terahertz
May 1, 2019

J.F. Harvey, M.B. Steer, T.S. Rappaport, "Exploiting High Millimeter Wave Bands for Military Communications, Applications, and Design," IEEE Access 7, 52350-52359, April 2019

Affiliate Access Only

terahertz
April 30, 2019

S. Rangana, P. Schniterb, A.K. Fletcherc, S. Sarkar, "On the convergence of approximate message passing with arbitrary matrices," IEEE Transactions on Information Theory, 2019

Affiliate Access Only

terahertz
April 24, 2019

RW Heath, N Gonzalez-Prelcic, S Rangan, W Roh, AM Sayeed, "An overview of signal processing techniques for millimeter wave MIMO systems," IEEE journal of selected topics in signal processing 10 (3), 436-453, April 2016

Affiliate Access Only

machine learning, terahertz
April 15, 2019

P. Pandit, M. Sahraee-Ardakan, A. Amini, S. Rangan, A. Fletcher, "Sparse Multivariate Bernoulli Processes in High Dimensions," The 22nd International Conference on Artificial Intelligence and Statistics, April 2019

Affiliate Access Only

terahertz
April 11, 2019

S Dutta, CN Barati, A Dhananjay, DA Ramirez, JF Buckwalter, S Rangan, "A Case for Digital Beamforming at mmWave," arXiv preprint arXiv:1901.08693,

Affiliate Access Only

terahertz
April 10, 2019

M Giordani, M Polese, M Mezzavilla, S Rangan, M Zorzi, "Towards 6G Networks: Use Cases and Technologies," arXiv preprint arXiv:1903.12216, March, 2019

Affiliate Access Only

terahertz
March 28, 2019

P Pandit, M Sahraee-Ardakan, AA Amini, S Rangan, AK Fletcher, "High-Dimensional Bernoulli Autoregressive Process with Long-Range Dependence," arXiv preprint arXiv:1903.09631, March 2019

Affiliate Access Only

terahertz
March 19, 2019

I. K. Jain, R. Kumar, and S. Panwar, "The Impact of Mobile Blockers on Millimeter Wave Cellular Systems," in IEEE Journal on Selected Areas in Communications, vol. 37, no. 4, pp. 854–868, Feb. 2019.

Affiliate Access Only

terahertz
February 1, 2019

M. Zhang, M. Polese, M. Mezzavilla, J. Zhu, S. Rangan, S. Panwar, M. Zorzi, "Will TCP Work in mmWave 5G Cellular Networks?" IEEE Communications Magazine 57 (1), 65-71, Jan. 2019

Affiliate Access Only

terahertz
January 15, 2019

T. Liansheng, T. S. Rappaport, et al. "Stability and throughput of FAST TCP traffic in bidirectional connections." Resource Allocation and Performance Optimization in Communication Networks and the Internet. Vol. 21. No. 4. Fort Monmouth, NJ: Springer, 2018. 1-20.

Affiliate Access Only

mmwave rappaport, terahertz
December 1, 2018

S. Ju, T. S. Rappaport, "Millimeter-wave Extended NYUSIM Channel Model for Spatial Consistency," in IEEE 2018 Global Communications Conference, Dec. 2018, pp.1-6.

Affiliate Access Only

5G Channel Models, Channel Sounder, mmWave Channel Models, mmwave rappaport, terahertz
December 1, 2018

Y. Xing, T. S. Rappaport, "Propagation Measurement System and Approach at 140 GHz–Moving to 6G and Above 100 GHz," in IEEE 2018 Global Communications Conference, Dec. 2018, pp.1-6.

Affiliate Access Only

5G Channel Models, Channel Sounder, mmwave, mmWave Channel Models, mmwave rappaport, terahertz
December 1, 2018

O. Kanhere, T. S. Rappaport, "Position locationing for millimeter wave systems," in IEEE 2018 Global Communications Conference, Dec.2018, pp. 1–6.

Affiliate Access Only

5g and 6g apps, 5G Channel Models, Channel Sounder, Localization, mmwave, mmWave Channel Models, mmwave rappaport, Ray Tracing, terahertz
December 1, 2018

C Slezak, V Semkin, S Andreev, Y Koucheryavy, S Rangan, "Empirical Effects of Dynamic Human-Body Blockage in 60 GHz Communications," IEEE Communications Magazine 56 (12), 60-66, Dec. 2018

Affiliate Access Only

terahertz
December 1, 2018

E. M. Vitucci,J.Chen, V. Degli-Esposti, J. S. Lu, H. L. Bertoni, and X. Yin, "Analyzing Radio Scattering Caused by Various Building Elements UsingMillimeter-Wave Scale Model Measurements and Ray Tracing," IEEE Transactions on Antennas and Propagation, Oct 2018

Affiliate Access Only

terahertz
October 7, 2018

M Giordani, M Mezzavilla, S Rangan, M Zorzi, "An efficient uplink multi-connectivity scheme for 5G millimeter-wave control plane applications," IEEE Transactions on Wireless Communications 17 (10), 6806-6821, Dec. 2018

Affiliate Access Only

terahertz
October 1, 2018

I. K. Jain, R. Kumar, S. Panwar, "Driven by Capacity or Blockage? A Millimeter Wave Blockage Analysis," IEEE ITC30, Sep. 2018.

Affiliate Access Only

mobile edge, terahertz
September 1, 2018

S Sarkar, AK Fletcher, S Rangan, P Schniter, "Bilinear recovery using adaptive vector-AMP," arXiv preprint arXiv:1809.00024, Aug. 2018

Affiliate Access Only

terahertz
August 31, 2018

I. K. Jain, R. Kumar, S. Panwar, "Limited by Capacity or Blockage? A Millimeter Wave Blockage Analysis," e-print in arXiv.org:1808.01228, Aug. 2018.

Affiliate Access Only

terahertz
August 1, 2018

Y. Xing, O. Kanhere, S. Ju, T. S. Rappaport, G. R. MacCartney Jr., "Verification and calibration of antenna cross-polarization discrimination and penetration loss for millimeter wave communications," 2018 IEEE 88th Vehicular Technology Conference (VTC2018-Fall), Chicago, USA, Aug. 2018, pp. 1-6.

Affiliate Access Only

mmwave rappaport, terahertz
August 1, 2018

S. Ju, T. S. Rappaport, "Simulating motion – incorporating spatial consistency into the nyusim channel model," in 2018 IEEE 88th Vehicular Technology Conference Workshops, Aug. 2018, pp. 1–6.

Affiliate Access Only

mmwave rappaport, terahertz, testbeds
August 1, 2018

S. Sun, T. S. Rappaport, M. Shaft, "Hybrid beamforming for 5G millimeter-wave multi-cell networks," IEEE INFOCOM 2018 – IEEE Conference on Computer Communications Workshops (INFOCOM WKSHPS), Honolulu, HI, 2018, pp. 589-596.

Affiliate Access Only

mmwave rappaport, terahertz
August 1, 2018

I. K. Jain, R. Kumar, S. Panwar, "Can Millimeter Wave Cellular Systems provide High Reliability and Low Latency? An analysis of the impact of Mobile Blockers," e-print in arXiv.org:1807.04388, Jul. 2018.

Affiliate Access Only

mobile edge, terahertz
July 1, 2018

M. Zhang, M. Polese, M. Mezzavilla, J. Zhu, S. Rangan, S. Panwar, M. Zorzi, "Will TCP work in mmWave 5G Cellular Networks?" arXiv preprint arXiv:1806.05783, 2018

Affiliate Access Only

terahertz, testbeds
June 15, 2018

A. Khalili, S. Rini, L. Barletta, E. Erkip, Y. C. Eldar, "On MIMO Channel Capacity with Output Quantization Constraints," Information Theory (ISIT), 2018 IEEE International Symposium on. IEEE, 2018

Affiliate Access Only

MIMO, terahertz
June 5, 2018

S. Sun, T.S. Rappaport, M. Shafi, P. Tang, J. Zhang, P. J. Smith, "Propagation Models and Performance Evaluation for 5G Millimeter-Wave Bands," in IEEE Transactions on Vehicular Technology, June 2018.

Affiliate Access Only

mmwave rappaport, quantum devices, terahertz
June 1, 2018

T. S. Rappaport, V. Ariyarathna, A. Madanayake, X. Tang, D. Coelho, R. J. Cintra, L. Belostotski, S. Mandal, "Analog Approximate-FFT 8/16-Beam Algorithms, Architectures and CMOS Circuits for 5G Beamforming MIMO Transceivers," in IEEE Journal on Emerging and Selected Topics in Circuits and Systems. May 2018.

Affiliate Access Only

Beam Combining, beam forming, MIMO, mmwave rappaport, terahertz, Wireless Comm
May 10, 2018

C. Sleizak, M. Zhang, M. Mezzavilla, S. Rangan, "Understanding End-to-End Effects of Channel Dynamics in Millimeter Wave Cellular", IEEE SPAWC 2018.

Affiliate Access Only

terahertz, testbeds
May 1, 2018

T. S. Rappaport, "5G Millimeter Wave Wireless: Trials, Testimonies, and Target Rollouts," IEEE Infocom Keynote Presentation, Honolulu, Hawaii, April 16, 2018.

Affiliate Access Only

mmwave rappaport, terahertz, testbeds
April 16, 2018

E. Erkip, S. Panwar, S. Shahsavari, F. Fund, "Capturing Capacity and Profit Gains with Base Station Sharing in mmWave Cellular Networks" e-print in arXiv.org:1804.0985, Apr. 2018.

Affiliate Access Only

machine learning, terahertz
April 1, 2018

M. Mezzavilla, M. Zhang, M. Polese, R. Ford, S. Dutta, S. Rangan, M. Zorzi, "End-to-End Simulation of 5G mmWave Networks," in IEEE Communications Surveys & Tutorials. Apr. 2018.

Affiliate Access Only

Prototyping and simulation software, terahertz, testbeds
April 1, 2018

T.S. Rappaport, S. M. Perera, V. Ariyarathna, N. Udayanga, A. Madanayake, G. Wu, L. Belostotski, Y. Wang, S. Mandal, R.J. Cintra, "Wideband N-Beam Arrays using Low-Complexity Algorithms and Mixed-Signal Integrated Circuits," in IEEE Journal of Selected Topics in Signal Processing. Apr. 2018.

Affiliate Access Only

5G Channel Models, mmwave rappaport, terahertz
April 1, 2018

S. Rangan, M. Mezzavilla, T.S. Rappaport, M. Polese, A. Zanella, A. Dhananjay, C. Kessler, M. Zorzi, "Public Safety Communications above 6 GHz: Challenges and Opportunities," in IEEE Access, vol. 6, pp. 316-329, 2018.

Affiliate Access Only

5g and 6g apps, terahertz
February 14, 2018

N. V. Shende, Ö. Gürbüz and E. Erkip, "Half-Duplex or Full-Duplex Communications: Degrees of Freedom Analysis Under Self-Interference," in IEEE Transactions on Wireless Communications, vol. 17, no. 2, pp. 1081-1093, Feb. 2018.

Affiliate Access Only

mobile edge, terahertz
February 10, 2018

R. Kumar, R. Margolies, R. Jana, Y. Liu, S. Panwar, "WiLiTV: Reducing Live Satellite TV Costs using Wireless Relays", in IEEE Journal on Selected Areas in Communications, February, 2018.

Affiliate Access Only

5g and 6g apps, Distributed Core, mobile edge, terahertz
February 1, 2018

AK Fletcher, S Rangan, "Iterative reconstruction of rank-one matrices in noise," Information and Inference: A Journal of the IMA 7 (3), 531-562, Jan. 2018

Affiliate Access Only

terahertz
January 2, 2018

AK Fletcher, P Pandit, S Rangan, S Sarkar, P Schniter, "Plug-in estimation in high-dimensional linear inverse problems: A rigorous analysis," Advances in Neural Information Processing Systems, 7440-7449, 2018

Affiliate Access Only

terahertz
January 1, 2018

V. Degli-Esposti, J.S. Lu, E.M. Vitucci, F. Fuschini, M. Barbiroli, J. Blaha, H.L. Bertoni, "Efficient RF coverage prediction through a fully discrete, GPU-parallelized ray-launching model," IET Digital Library, Jan 2018

Affiliate Access Only

terahertz
January 1, 2018

F. Gómez-Cuba, E. Erkip, S. Rangan and F. J. González-Castaño, "Capacity Scaling of Cellular Networks: Impact of Bandwidth, Infrastructure Density and Number of Antennas," in IEEE Transactions on Wireless Communications, vol. 17, no. 1, pp. 652-666, Jan. 2018.

Affiliate Access Only

terahertz
January 1, 2018

C. Herranz, M. Zhang, M. Mezzavilla, S. Rangan, J. F. Montserrat, "A 3GPP NR Compliant Beam Management Framework to Simulate End-to-End mmWave Networks", ACM MSWiM 2018.

Affiliate Access Only

terahertz, testbeds
January 1, 2018

C. Slezak, A. Dhananjay, S. Rangan, "60 GHz Blockage Study Using Phased Arrays," Proceedings of the 51st Asilomar Conference on Signals, Systems, and Computers, 2017

Affiliate Access Only

terahertz
December 14, 2017

M Polese, M Mezzavilla, S Rangan, C Kessler, M Zorzi, "mmWave for future public safety communications," Proceedings of the First CoNEXT Workshop on ICT Tools for Emergency Networks and DisastEr Relief, Dec. 2017

Affiliate Access Only

5g and 6g apps, terahertz
December 11, 2017

G. R. MacCartney, Jr., T. S. Rappaport and A. Ghosh, "Base Station Diversity Propagation Measurements at 73 GHz Millimeter-Wave for 5G Coordinated Multipoint (CoMP) Analysis," 2017 IEEE Globecom Workshops, Singapore, Dec. 2017, pp. 1-7.

Affiliate Access Only

mmwave rappaport, terahertz
December 10, 2017

G. R. MacCartney, Jr., T. S. Rappaport, and Sundeep Rangan, "Rapid Fading Due to Human Blockage in Pedestrian Crowds at 5G Millimeter-Wave Frequencies," 2017 IEEE Global Communications Conference, Singapore, Dec. 2017.

Affiliate Access Only

mmwave rappaport, terahertz
December 7, 2017

T. S. Rappaport, Y. Xing, G. R. MacCartney, Jr., A. F. Molisch, E. Mellios, and J. Zhang, "Overview of millimeter wave communications for fifth-generation (5G) wireless networks," IEEE Transactions on Antennas and Propagation, 2017, Dec. 2017.

Affiliate Access Only

mmwave rappaport, terahertz
December 6, 2017

T. S. Rappaport, G. R. MacCartney, Jr., S. Sun, H. Yan, and S. Deng, "Small-scale, local area, and transitional millimeter wave propagation for 5G communications," IEEE Transactions on Antennas and Propagation, Dec. 2017

Affiliate Access Only

mmwave rappaport, terahertz
December 5, 2017

S Dutta, CN Barati, A Dhananjay, S Rangan, "5G millimeter wave cellular system capacity with fully digital beamforming," 2017 51st Asilomar Conference on Signals, Systems, and Computers, 1224-1228, Oct. 2017

Affiliate Access Only

terahertz
October 29, 2017

M Polese, M Mezzavilla, M Zhang, J Zhu, S Rangan, S Panwar, M Zorzi, "milliProxy: A TCP proxy architecture for 5G mmWave cellular systems," 2017 51st Asilomar Conference on Signals, Systems, and Computers, 951-957, Oct. 2017

Affiliate Access Only

terahertz
October 29, 2017

J. Lota, S. Sun, T. S. Rappaport, and A. Demosthenous, "5G Uniform linear arrays with beamforming and spatial multiplexing at 28 GHz, 37 GHz, 64 GHz and 71 GHz for outdoor urban communication: A two-level approach," IEEE Transactions on Vehicular Technology, Sep. 2017.

Affiliate Access Only

mmwave rappaport, terahertz
September 5, 2017

M Zhang, M Mezzavilla, J Zhu, S Rangan, S Panwar, "TCP dynamics over mmWave links," 2017 IEEE 18th International Workshop on Signal Processing Advances in Wireless Communications (SPAWC), July 2017

Affiliate Access Only

terahertz
July 3, 2017

G. R. MacCartney, Jr. and T. S. Rappaport, "Rural Macrocell Path Loss Models for Millimeter Wave Wireless Communications," in IEEE Journal on Selected Areas in Communications, vol. 35, no. 7, pp. 1663-1677, July 2017.

Affiliate Access Only

mmwave rappaport, terahertz
July 3, 2017

Rangan, Sundeep, Philip Schniter, and Alyson K. Fletcher, "Vector approximate message passing," IEEE ISIT, July 2017.

Affiliate Access Only

machine learning, terahertz
July 1, 2017

M. Polese, M. Giordani, M. Mezzavilla, S. Rangan, M. Zorzi, "Improved Handover Through Dual Connectivity in 5G mmWave Mobile Networks," in IEEE Journal on Selected Areas in Communications, vol.PP, no.99, pp.1-1, June 2017.

Affiliate Access Only

mobile edge, terahertz
June 27, 2017

M. Zhang, M. Polese, M. Mezzavilla, S. Rangan, M. Zorzi "ns-3 Implementation of the 3GPP MIMO Channel Model for Frequency Spectrum above 6 GHz," Workshop on ns-3, June 13 – 14, 2017, Porto, Portugal.

Affiliate Access Only

machine learning, terahertz, testbeds
June 7, 2017

Y. Wang, S. Mao and T. S. Rappaport, "On Directional Neighbor Discovery in mmWave Networks," 2017 IEEE 37th International Conference on Distributed Computing Systems (ICDCS), Atlanta, GA, June 2017, pp. 1704-1713.

Affiliate Access Only

mmwave rappaport, terahertz
June 1, 2017

M. Rebato, F. Boccardi, M. Mezzavilla, S. Rangan and M. Zorzi, "Hybrid Spectrum Sharing in mmWave Cellular Networks," in IEEE Transactions on Cognitive Communications and Networking, vol. 3, no. 2, pp. 155-168, June 2017.

Affiliate Access Only

terahertz
June 1, 2017

R. Kumar, R. Margolies, R. Jana, Y. Liu, and S. Panwar, "WiLiTV: Reducing Live Satellite TV Costs using Wireless Relays," in IEEE Journal on Selected Areas in Communications Special Issue on Advances in Satellite Communications, June 2017.

Affiliate Access Only

5g and 6g apps, Distributed Core, terahertz
June 1, 2017

G. R. MacCartney, Jr. and T. S. Rappaport, "A Flexible Millimeter-Wave Channel Sounder with Absolute Timing," IEEE Journal on Selected Areas in Communications, vol. 35, no. 6, pp. 1402-1418, June 2017.

Affiliate Access Only

terahertz
June 1, 2017

R. Ford, S. Rangan, E. Mellios, D. Kong and A. Nix, "Markov Channel-Based Performance Analysis for Millimeter Wave Mobile Networks," 2017 IEEE Wireless Communications and Networking Conference (WCNC), San Francisco, CA, 2017, pp. 1-6.

Affiliate Access Only

mobile edge, terahertz
June 1, 2017

S. Goyal, M. Mezzavilla, S. Rangan, S. Panwar and M. Zorzi, "User Association in 5G mmWave Networks," 2017 IEEE Wireless Communications and Networking Conference (WCNC), San Francisco, CA, 2017, pp. 1-6.

Affiliate Access Only

terahertz
June 1, 2017

M. Borgerding; P. Schniter; S. Rangan, "AMP-Inspired Deep Networks for Sparse Linear Inverse Problems," in IEEE Transactions on Signal Processing , vol. 65, no. 16, pp. 4293-4308.

Affiliate Access Only

machine learning, terahertz
May 25, 2017

S. Sun and T. S. Rappaport, "Millimeter Wave MIMO Channel Estimation Based on Adaptive Compressed Sensing," 2017 IEEE International Conference on Communications Workshop (ICCW), May 2017.

Affiliate Access Only

machine learning, terahertz
May 23, 2017

G. R. MacCartney, Jr. and T. S. Rappaport, "A Flexible Wideband Millimeter-Wave Channel Sounder with Local Area and NLOS to LOS Transition Measurements," in 2017 IEEE International Conference on Communications (ICC), Paris, France, May 2017, pp. 1-7.

Affiliate Access Only

terahertz
May 1, 2017

P. A. Eliasi; S. Rangan; T. S. Rappaport, "Low-Rank Spatial Channel Estimation for Millimeter Wave Cellular Systems," IEEE Transactions on Wireless Communications, vol. 16, no. 5, pp. 2748-2759, May 2017.

Affiliate Access Only

terahertz
May 1, 2017

S. Sun, G. R. MacCartney Jr., and T. S. Rappaport, "A Novel Millimeter-Wave Channel Simulator and Applications for 5G Wireless Communications," 2017 IEEE International Conference on Communications (ICC), May 2017.

Affiliate Access Only

mmwave rappaport, terahertz, testbeds
May 1, 2017

S. Sun, H. Yan, G. R. MacCartney Jr., and T. S. Rappaport, "Millimeter Wave Small-Scale Spatial Statistics in an Urban Microcell Scenario," 2017 IEEE International Conference on Communications (ICC), May 2017.

Affiliate Access Only

100 GHz, 5G Channel Models, Channel Sounder, Millimeter Wave 5G Prototype, mmwave rappaport, Prototyping and simulation software, terahertz
May 1, 2017

J. Ryan, G. R. MacCartney, Jr., and T. S. Rappaport, "Indoor Office Wideband Penetration Loss Measurements at 73 GHz," in 2017 IEEE International Conference on Communications Workshop (ICCW), Paris, France, May 2017, pp. 1-6.

Affiliate Access Only

mmwave rappaport, terahertz
May 1, 2017

G. R. MacCartney, Jr. and T. S. Rappaport, "Study on 3GPP Rural Macrocell Path Loss Models for Millimeter Wave Wireless Communications," in 2017 IEEE International Conference on Communications (ICC), Paris, France, May 2017, pp. 1-7.

Affiliate Access Only

mmwave rappaport, Prototyping and simulation software, terahertz
May 1, 2017

R. Kumar, R. Margolies, R. Jana, Y. Liu, S. Panwar, "WiLiTV: A Low-Cost Wireless Framework for Live TV Services," 2017 IEEE Conference on Computer Communications Workshops, May 2017.

Affiliate Access Only

Distributed Core, terahertz
April 11, 2017

M. Polese, R. Jana, M. Zorzi, "TCP in 5G mmWave Networks: Link Level Retransmissions and MP-TCP," to be presented at 2017 IEEE Conference on Computer Communications Workshops (INFOCOM WKSHPS), Atlanta, USA, May 2017.

Affiliate Access Only

mobile edge, terahertz
April 4, 2017

R. Ford, A. Sridharan, R. Margolies, R. Jana, S. Rangan "Provisioning Low Latency, Resilient Mobile Edge Clouds for 5G" arXiv:1703.10915 [cs.NI].

Affiliate Access Only

mobile edge, terahertz
March 31, 2017

T.S. Rappaport, S. Sun and M. Shafi, "5G channel model with improved accuracy and efficiency in mmWave bands," IEEE 5G Tech Focus, Mar. 2017.

Affiliate Access Only

mmwave rappaport, terahertz
March 5, 2017

R. Ford, M. Zhang, M. Mezzavilla, S. Dutta, S. Rangan and M. Zorzi, "Achieving Ultra-Low Latency in 5G Millimeter Wave Cellular Networks," in IEEE Communications Magazine, vol. 55, no. 3, pp. 196-203, March 2017.

Affiliate Access Only

mobile edge, terahertz
March 3, 2017

F. Fund, S. Shahsavari, S. S. Panwar, E. Erkip, S. Rangan, "Resource Sharing Among mmWave Cellular Service Providers in a Vertically Differentiated Duopoly," France, 2017, pp. 1-7.

Affiliate Access Only

mobile edge, terahertz
February 22, 2017

M. Polese, M. Mezzavilla, S. Rangan, M. Zorzi, "Mobility Management for TCP on mmWave Networks", mmNets 2017.

Affiliate Access Only

mobile edge, terahertz
January 13, 2017

M. Polese, M. Zhang, M. Mezzavilla, J. Zhu, S. Rangan, S. Panwar, M. Zorzi, "A Split TCP Proxy Architecture for 5G mmWave Cellular Systems", Asilomar 2017.

Affiliate Access Only

mobile edge, terahertz
January 13, 2017

S. Dutta, M. Mezzavilla, R. Ford, M. Zhang, S. Rangan, M. Zorzi, "Frame Structure Design and Analysis for Millimeter Wave Cellular Systems", IEEE Transactions on Wireless Communications 16.3 (2017): 1508-1522.

Affiliate Access Only

terahertz
January 4, 2017

AK Fletcher, M Sahraee-Ardakan, S Rangan, P Schniter, "Rigorous dynamics and consistent estimation in arbitrarily conditioned linear systems," Advances in Neural Information Processing Systems, 2545-2554, 2017

Affiliate Access Only

terahertz
January 1, 2017

S Rangan, AK Fletcher, P Schniter, US Kamilov, "Inference for generalized linear models via alternating directions and Bethe free energy minimization," IEEE Transactions on Information Theory 63 (1), 676-697, Jan. 2017

Affiliate Access Only

terahertz
January 1, 2017

C. N. Barati, S. A. Hosseini, M. Mezzavilla, S. Rangan, T. Korakis, S. S. Panwar, M. Zorzi, "Initial Access in Millimeter Wave Cellular Systems," in IEEE Transactions on Wireless Communications, vol. 15, no. 12, pp. 7926-7940, Dec. 2016.

Affiliate Access Only

terahertz
December 23, 2016

S. Rangan, P. Schniter, E. Riegler, A. K. Fletcher, V. Cevher, "Fixed Points of Generalized Approximate Message Passing with Arbitrary Matrices," in IEEE Transactions on Information Theory, vol. 62, no. 12, pp. 7464-7474, Dec. 2016.

Affiliate Access Only

terahertz
December 2, 2016

C.N. Barati, S.A. Hosseini, M. Mezzavilla, P. Amiri-Eliasi, S. Rangan, T. Korakis, M. Zorzi, "Directional initial access for millimeter wave cellular systems." in IEEE Transactions on Wireless Communications, vol. 15, no. 12, pp. 7926-7940, Dec. 2016.

Affiliate Access Only

terahertz, testbeds
December 1, 2016

F. Boccardi et al., "Spectrum Pooling in MmWave Networks: Opportunities, Challenges, and Enablers," in IEEE Communications Magazine, vol. 54, no. 11, pp. 33-39, November 2016.

Affiliate Access Only

terahertz
November 15, 2016

P Schniter, S Rangan, A Fletcher, "Denoising based vector approximate message passing," arXiv:1611.01376, Nov. 2016

Affiliate Access Only

terahertz
November 4, 2016

A.I. Sulyman, A. Alwarafy, G.R. MacCartney, T.S. Rappaport, A. Alsanie, "Directional Radio Propagation Path Loss Models for Millimeter-Wave Wireless Networks in the 28-, 60-, and 73-GHz Bands," IEEE Transactions on Wireless Communications, vol. 15, no. 10, pp. 6939-6947, Oct. 2016.

Affiliate Access Only

mmWave Channel Models, mmwave rappaport, terahertz
October 25, 2016

M. Giordani, M. Mezzavilla, S. Rangan, M. Zorzi, "Uplink-Based Framework for Control Plane Applications in 5G mmWave Cellular Networks," submitted to IEEETransaction on Wireless Communications.

Affiliate Access Only

terahertz
October 16, 2016

M Giordani, M Mezzavilla, S Rangan, M Zorzi, "Uplink-based framework for control plane applications in 5G mmWave cellular networks," arXiv:1610.04836, Oct. 2016

Affiliate Access Only

terahertz, testbeds
October 1, 2016

F Fund, S Shahsavari, SS Panwar, E Erkip, S Rangan, "Poster: Do open resources encourage entry into the millimeter wave cellular service market?," 22nd Annual International Conference on Mobile Computing and Networking, MobiCom 2016, Oct. 2016

Affiliate Access Only

terahertz
October 1, 2016

M. Rebato, M. Mezzavilla, S. Rangan, M. Zorzi, "The Potential of Resource Sharing in 5G Millimeter-Wave Bands", IEEE Communications Magazine.

Affiliate Access Only

terahertz
August 25, 2016

R. Ford, F. Gómez-Cuba, M. Mezzavilla, S. Rangan, "Dynamic Time-domain Duplexing for Self-backhauled Millimeter Wave Cellular Networks", IEEE ICC BackNets, 2015.

Affiliate Access Only

terahertz
August 25, 2016

M. Rebato, M. Mezzavilla, S. Rangan, M. Zorzi, "Resource Sharing in 5G mmWave Cellular Networks", 2016 IEEE Conference on Computer Communications Workshops (INFOCOM WKSHPS), San Francisco, CA, 2016, pp. 271-276.

Affiliate Access Only

terahertz
August 22, 2016

M. Giordani, M. Mezzavilla, M. Zorzi, "Initial Access in 5G mm-Wave Cellular Networks," to appear in IEEE COMMAG.

Affiliate Access Only

terahertz, testbeds
August 22, 2016

S. Deng, G. R. MacCartney Jr., T. S. Rappaport, "Indoor and Outdoor 5G Diffraction Measurements and Models at 10, 20, and 26 GHz," 2016 IEEE Global Communications Conference (GLOBECOM), Washington, DC, 2016, pp. 1-7.

Affiliate Access Only

Millimeter Wave 5G Prototype, mmWave Channel Models, mmwave rappaport, terahertz
August 18, 2016

M. Polese, M. Mezzavilla, M. Zorzi, "Performance Comparison of Dual Connectivity and Hard Handover for LTE-5G Tight Integration in mmWave Cellular Networks," Master Thesis – University of Padova, July 2016.

Affiliate Access Only

terahertz
August 12, 2016

A. Fletcher, M. Sahraee-Ardakan, S. Rangan, P. Schniter, Expectation Consistent Approximate Inference: Generalizations and Convergence 2016 IEEE International Symposium on Information Theory (ISIT), Barcelona, 2016, pp. 190-194.

Affiliate Access Only

terahertz
July 15, 2016

M. Polese, M. Mezzavilla, M. Zorzi, "Performance Comparison of Dual Connectivity and Hard Handover for LTE-5G Tight Integration," accepted at EAI SIMUtools 2016 conference, August 22 – 23, 2016, Prague, Czech Republic.

Affiliate Access Only

terahertz, testbeds
July 13, 2016

G. R. MacCartney Jr., S. Deng, S. Sun, T. S. Rappaport, "Millimeter-Wave Human Blockage at 73 GHz with a Simple Double Knife-Edge Diffraction Model and Extension for Directional Antennas," 2016 IEEE 84th Vehicular Technology Conference Fall (VTC 2016-Fall), Sept. 2016.

Affiliate Access Only

mmwave rappaport, terahertz
July 6, 2016

M. Mezzavilla, S. Goyal, S. Panwar, S. Rangan, M. Zorzi, "An MDP Model for Optimal HO Decisions in mmWave Cellular Networks", EuCNC '16.

Affiliate Access Only

terahertz, testbeds
June 30, 2016

S. Dutta, M. Mezzavilla, R. Ford, M. Zhang, S. Rangan, M. Zorzi, "MAC Layer Frame Design for Millimeter Wave Cellular System", Proc. IEEE European Conference on Networks and Communications (EuCNC), Athens, 2016, pp. 117-121.

Affiliate Access Only

terahertz, testbeds
June 30, 2016

M. Giordani, M. Mezzavilla, S. Rangan and M. Zorzi, "Multi-connectivity in 5G mmWave cellular networks," 2016 Mediterranean Ad Hoc Networking Workshop (Med-Hoc-Net), Vilanova i la Geltru, Spain, 2016, pp. 1-7.

Affiliate Access Only

terahertz, testbeds
June 22, 2016

M. Rebato, F. Boccardi, M. Mezzavilla, S. Rangan and M. Zorzi, "Hybrid spectrum access for mmWave networks," 2016 Mediterranean Ad Hoc Networking Workshop (Med-Hoc-Net), Vilanova i la Geltru, Spain, 2016, pp. 1-7.

Affiliate Access Only

terahertz, testbeds
June 22, 2016

R. Ford, M. Zhang, S. Dutta M. Mezzavilla, S. Rangan, M. Zorzi "A Framework for End-to-End Evaluation of 5G mmWaveCellular Networks in ns-3" Proceedings of the Workshop on ns-3, Pages 85-92, June 15 – 16, 2016, Seattle, WA, USA

Affiliate Access Only

5G Channel Models, High-speed, networking, mmwave, ns3, terahertz
June 15, 2016

M. Rebato, M. Mezzavilla, S. Rangan, F. Boccardi and M. Zorzi, "Understanding Noise and Interference Regimes in 5G Millimeter-Wave Cellular Networks," Proc. IEEE European Wireless Conference, Oulu, Finland, 2016, pp. 1-5.

Affiliate Access Only

terahertz, testbeds
May 20, 2016

M. Giordani, M. Mezzavilla, A. Dhananjay, S. Rangan and M. Zorzi, "Channel Dynamics and SNR Tracking in Millimeter Wave Cellular Systems," Proc. IEEE European Wireless Conference, Oulu, Finland, 2016, pp. 1-8.

Affiliate Access Only

terahertz, testbeds
May 20, 2016

S. Sun et al., "Propagation Path Loss Models for 5G Urban Micro- and Macro-Cellular Scenarios," Proc. IEEE Vehicular Technology Conference (VTC Spring), Nanjing, 2016, pp. 1-6.

Affiliate Access Only

5G Channel Models, mmwave rappaport, terahertz
May 18, 2016

S. Sun, T.S. Rappaport, T. Thomas, A. Ghosh, H. Nguyen, I. Kovacs, I. Rodriguez, O. Koymen, A. Partyka, "Investigation of prediction accuracy, sensitivity, and parameter stability of large-scale propagation path loss models for 5G wireless communications," IEEE Transactions on Vehicular Technology, vol. 65, no. 5, pp. 2843 – 2860, May 2016.

Affiliate Access Only

5G Channel Models, Millimeter Wave 5G Prototype, mmwave rappaport, terahertz
May 16, 2016

Fund F, Shahsavari S, Panwar SS, Erkip E, Rangan S. Spectrum and Infrastructure Sharing in Millimeter Wave Cellular Networks: An Economic Perspective, arXiv preprint arXiv:1605.04602. 2016 May 15.

Affiliate Access Only

terahertz, testbeds
May 15, 2016

P. Schniter, S. Rangan and A. K. Fletcher, "Vector approximate message passing for the generalized linear model," Proc. IEEE Asilomar Conference on Signals, Systems and Computers, Pacific Grove, CA, 2016, pp. 1525-1529.

Affiliate Access Only

terahertz
April 26, 2016

J Wu, S Rangan, H Zhang, "Green communications: theoretical fundamentals, algorithms, and applications," CRC press, April 19, 2016

Affiliate Access Only

terahertz
April 19, 2016

J Wu, S Rangan, H Zhang, "On the Energy Efficiency-Spectral Efficiency Trade-off in Cellular Systems," Green Communications, 379-430, April 2016

Affiliate Access Only

terahertz
April 19, 2016

F Gómez-Cuba, S Rangan, E Erkip, FJ González-Castaño, "Capacity scaling bounds in wideband cellular networks," 24th International Zurich Seminar on Communications (IZS), 2016

Affiliate Access Only

terahertz
April 15, 2016

R.W. Heath, N. González-Prelcic, S. Rangan, W. Roh, A. Sayeed, Introduction to the Special Issue on Signal Processing for Millimeter Wave Wireless Communications. IEEE Journal of Selected Topics in Signal Processing. 2016 Apr;10(3):433-5.

Affiliate Access Only

terahertz
April 15, 2016

M. Zhang, M. Mezzavilla, R. Ford, S. Rangan, S. Panwar, E. Mellios, D. Kong, A. Nix, M. Zorzi, "Transport layer performance in 5G mmWave cellular", Computer Communications Workshops (INFOCOM WKSHPS) 2016 IEEE Conference on, pp. 730-735, 2016.

Affiliate Access Only

terahertz, testbeds
April 14, 2016

M. Giordani, M. Mezzavilla, C. N. Barati, S. Rangan and M. Zorzi, "Comparative analysis of initial access techniques in 5G mmWave cellular networks," 2016 Annual Conference on Information Science and Systems (CISS), Princeton, NJ, 2016, pp. 268-273.

Affiliate Access Only

terahertz, testbeds
March 18, 2016

K. Haneda, L. Tian, H. Asplund, J. Li, Y. Wang, D. Steer, C. Li, T. Balercia, S. Lee, Y. Kim, A. Ghosh, T. Thomas, T. Nakamura, Y. Kakishima, T. Imai, H. Papadopoulas, T. S. Rappaport, G. R. MacCartney Jr., M. K. Samimi, S. Sun, O. Koymen, S. Hur, J. Park, C. Zhang, E. Mellios, A. F. Molisch, S. S. Ghassamzadah, A. Ghosh "Indoor 5G 3GPP-like Channel Models for Office and Shopping Mall Environments," in 2016 IEEE International Conference on Communications Workshops (ICCW), May 2016.

Affiliate Access Only

mmwave rappaport, terahertz
March 13, 2016

S. Sun, G.R. MacCartney, T.S. Rappaport, "Millimeter-Wave Distance-Dependent Large-Scale Propagation Measurements and Path Loss Models for Outdoor and Indoor 5G Systems," in the 10th European Conference on Antennas and Propagation (EuCAP 2016), April 2016.

Affiliate Access Only

5G Channel Models, mmWave Channel Models, mmwave rappaport, terahertz
February 24, 2016

R. Ford, M. Zhang, M. Mezzavilla, S. Dutta, S. Rangan, M. Zorzi "A Framework for End-to-End Evaluation of 5G mmWaveCellular Networks in ns-3" Proceedings of the Workshop on ns-3, Pages 85-92, June 15 – 16, 2016, Seattle, WA, USA

Affiliate Access Only

High-speed, networking, terahertz, testbeds
February 23, 2016

M.K. Samimi, T.S. Rappaport, S. Sun, G. R. MacCartney, Jr. "28 GHz Millimeter-Wave Ultrawideband Small-Scale Fading Models in Wireless Channels," in 2016 IEEE Vehicular Technology Conference (VTC2016-Spring), 15-18 May, 2016

Affiliate Access Only

5G Channel Models, Channel Sounder, Millimeter Wave 5G Prototype, mmWave Channel Models, mmwave rappaport, terahertz, testbeds
February 22, 2016

G. R. MacCartney Jr., S. Deng, T. S. Rappaport, "Indoor Office Plan Environment and Layout-Based MmWave Path Loss Models for 28 GHz and 73 GHz," in the 2016 IEEE 83rd Vehicular Technology Conference Spring (VTC2016-Spring), May 2016.

Affiliate Access Only

Millimeter Wave 5G Prototype, mmWave Channel Models, mmwave rappaport
February 22, 2016

S. Sun, G. R. MacCartney, Jr., M. K. Samimi, and T. S. Rappaport, "Synthesizing Omnidirectional Antenna Patterns, Received Power and Path Loss from Directional Antennas for 5G Millimeter-Wave Communications," in 2015 IEEE Global Communications Conference (GLOBECOM), Dec. 2015.

Affiliate Access Only

mmWave Channel Models, mmwave rappaport
December 1, 2015

C. Nicolas Barati, S. Amir Hosseini, Marco Mezzavilla, Parisa Amiri-Eliasi, Sundeep Rangan, Thanasis Korakis, Shivendra S. Panwar, Michele Zorzi, "Directional initial access for millimeter wave cellular systems," 2015 49th Asilomar Conference on Signals, Systems and Computers, Pacific Grove, CA, 2015, pp. 307-311.

Affiliate Access Only

Cellular networks, mmwave rappaport, terahertz, testbeds
November 11, 2015

C. N. Barati, S. A. Hosseini, M. Mezzavilla, P. Amiri-Eliasi, S. Rangan, T. Korakis, S. S. Panwar, M. Zorzi,"Directional initial access for millimeter wave cellular systems, Proc. IEEE Asilomar Conf. on Signals, Systems and Computers, Pacific Grove, CA, pp. 307-311, November 2015.

Affiliate Access Only

mmwave rappaport, terahertz, testbeds
November 1, 2015

G. R. MacCartney Jr., T.S. Rappaport, S. Sun, S. Deng, "Indoor office wideband millimeter-wave propagation measurements and channel models at 28 GHz and 73 GHz for ultra-dense 5G wireless networks," IEEE Access, vol. 3, pp. 2388-2424, Dec. 2015.

Affiliate Access Only

100 GHz, 5G Channel Models, mmwave rappaport
October 5, 2015

A. K. Fletcher, J. Viventi and S. Rangan, "Neural mass spatio-temporal modeling from high-density electrodearray recordings," Proc. IEEE Information Theory and Applications Workshop (ITA), San Diego, CA, 2015, pp. 319-321.

Affiliate Access Only

5G Path Loss Models, terahertz, testbeds
August 8, 2015

G.R. MacCartney Jr., T.S. Rappaport, M.K. Samimi, S. Sun, "Millimeter-wave omnidirectional path loss data for small cell 5G channel modeling," IEEE Access, vol. 3, pp. 1573-1580, Sept. 2015.

Affiliate Access Only

5G Channel Models, Millimeter Wave 5G Prototype, mmWave Channel Models, mmwave rappaport
August 6, 2015

H. Shokri-Ghadikolaei, C. Fischione, G. Fodor, P. Popovski, M. Zorzi, "Millimeter Wave Cellular Networks: A MAC Layer Perspective," IEEE Trans. Wireless Communications, vol. 63, no. 10, pp. 3437-3458, Oct. 2015.

Affiliate Access Only

terahertz, testbeds
July 14, 2015

P. A. Eliasi and S. Rangan, "Stochastic dynamic channel models for millimeter cellular systems," Proc. IEEE International Workshop on Computational Advances in Multi-Sensor Adaptive Processing (CAMSAP), Cancun, 2015, pp. 209-212

Affiliate Access Only

terahertz, testbeds
July 1, 2015

J. García-Rois, F. Gómez-Cuba, F. J. González-Castaño, J. C. Burguillo-Rial, M. R. Akdeniz, S. Rangan, "On the Analysis of Scheduling in Dynamic Duplex Multi-Hop mmWave Cellular Systems," IEEE Trans. Wireless Communications, vol. 99, June 2015.

Affiliate Access Only

Network Design, terahertz, testbeds
June 18, 2015

T. S. Rappapor, S. Deng, "73 GHz wideband millimeter-wave foliage and ground reflection measurements and models," IEEE International Conference on Communications Workshops, ICC Workshops, 2015.

Affiliate Access Only

mmWave Channel Models, Wireless Comm
June 12, 2015

M. K. Samimi, T. S. Rappaport, "3-D Statistical Channel Model for Millimeter-Wave Outdoor Mobile Broadband Communications," 2015 IEEE International Conference on Communications (ICC), 8-12 June, 2015.

Affiliate Access Only

5G Channel Models, mmWave Channel Models, Wireless Comm
June 8, 2015

R. Ford, F. Gomez-Cuba, M. Mezzavilla, S. Rangan, "Dynamic Time-domain Duplexing for Self-backhauled Millimeter Wave Cellular Networks"

Affiliate Access Only

Cellular networks, scheduling, terahertz, testbeds
June 8, 2015

G. R. MacCartney Jr., et al., "Exploiting directionality for millimeter-wave wireless system improvement," in 2015 IEEE International Conference on Communications (ICC), pp. 2416-2422, 8-12 June 2015.

Affiliate Access Only

5G Channel Models, mmwave rappaport, terahertz
June 8, 2015

T.S. Rappaport, G.R Maccartney Jr., M.K. Samimi, S. Sun, "Wideband Millimeter-Wave Propagation Measurements and Channel Models for Future Wireless Communication System Design," IEEE Transactions on Communications, vol.63, no.9, pp. 3029-3056, Sept. 2015.

Affiliate Access Only

5G Channel Models, mmwave rappaport, terahertz
May 18, 2015

M. K. Samimi, T. S. Rappaport, G. R. MacCartney, Jr., "Probabilistic Omnidirectional Path Loss Models for Millimeter-Wave Outdoor Communications", IEEE Wireless Communications Letters, August 2015, Vol. 4, No. 4, pp. 357-360.

Affiliate Access Only

mmwave rappaport, terahertz
March 27, 2015

S. Rangan, "Millimeter Wave Wireless Networks: Potentials and Challenges", Rutgers ECE Colloquium, March 2015.

Affiliate Access Only

terahertz, testbeds
March 11, 2015

M. K. Samimi, T. S. Rappaport, "Ultra-Wideband Statistical Channel Model for Non Line of Sight Millimeter-Wave Urban Channels", IEEE Global Communications Conference, Exhibitions & Industry Forum (GLOBECOM), 8-12 December 2014.

Affiliate Access Only

5G Channel Models, Broadband Communications, mmwave rappaport, terahertz
December 8, 2014

S. Sun, T. S. Rappaport, R. W. Heath, A. Nix, S. Rangan, "MIMO for millimeter-wave wireless communications: beamforming, spatial multiplexing, or both?" IEEE Communications Magazine, vol. 52, no. 12, pp. 110-121, December 2014.

Affiliate Access Only

machine learning, MIMO, mmwave rappaport, terahertz
November 26, 2014

S. Deng, C. J. Slezak, G. R. MacCartney Jr., T. S. Rappaport, "Small wavelengths – big potential: millimeter wave propagation measurements for 5G," Microwave Journal, vol. 57, no. 11, pp. 4–12, Nov. 2014.

Affiliate Access Only

mmwave rappaport, terahertz
November 13, 2014

C. Kim, R. Ford, S. Rangan, "Joint interference and user association optimization in cellular wireless networks," Proc. IEEE Asilomar Conf. Signals, Systems and Computers, Pacific Grove, CA, Nov 2014.

Affiliate Access Only

terahertz, testbeds, Wireless Comm
November 2, 2014

A. Thomas, H. C. Nguyen, G. R. MacCartney, Jr., and T. S. Rappaport, "3D mmWave Channel Model Proposal," accepted in Vehicular Technology Conference (VTC Fall), 2014 IEEE 80th, Sept 14 – 17, 2014.

Affiliate Access Only

mmwave rappaport, terahertz
September 14, 2014

H. C. Nguyen, G. R. MacCartney Jr., T. A. Thomas, T. S Rappaport, B. Vejlgaard, and P. Mogensen, "Evaluation of Empirical Ray-Tracing Model for an Urban Outdoor Scenario at 73 GHz E-Band," Vehicular Technology Conference (VTC Fall), 2014.

Affiliate Access Only

mmwave rappaport, mmWave Ray-Tracing, terahertz
September 14, 2014

A. I. Sulyman, A. T. Nassar, M. K. Samimi, G. R. MacCartney, Jr., T. S. Rappaport, and A. Alsanie, "Radio Propagation Path Loss Models for 5G Cellular Networks in the 28 GHz and 38 GHz Millimeter-Wave Bands," IEEE Communications Magazine, vol. 52, no. 9, pp. 78–86, Oct. 2014.

Affiliate Access Only

5G Path Loss Models, mmwave rappaport, terahertz
September 12, 2014

G. R. MacCatney, M. K. Samimi, T. S. Rappaport, "Omnidirectional Path Loss Models in New York City at 28 GHz and 73 GHz," IEEE Personal, Indoor, and Mobile Radio Communications (PIMRC), September 2-5, 2014.

Affiliate Access Only

Broadband Communications, mmWave Channel Models, mmwave rappaport, terahertz
September 2, 2014

S.Nie, M.K.Samimi, T.Wu, S.Deng, G. R. MacCartney, Jr., T.S. Rappaport "73 GHz Millimeter-Wave Indoor and Foliage Propagation Channel Measurements and Results," Tech. Rep. 2014-003, NYU WIRELESS: Department of Electrical Engineering and Computer Engineering, NYU Tandon School of Engineering, Brooklyn, New York, July 2014.

Affiliate Access Only

mmwave rappaport, terahertz, Wireless Comm
July 29, 2014

F. Gomez-Cuba, S. Rangan, E. Erkip, "Proc. IEEE Int. Symp. Information Theory (ISIT)," Hawaii, July 2014.

Affiliate Access Only

terahertz, testbeds
July 28, 2014

M. K. Samimi, T. S. Rappaport, "Characterization of the 28 GHz Millimeter-Wave Dense Urban Channel for Future 5G Mobile Cellular," Tech. Rep. 2014-001, NYU WIRELESS: Department of Electrical Engineering and Computer Engineering, NYU Tandon School of Engineering, Brooklyn, New York, June 2014.

Affiliate Access Only

mmwave rappaport, terahertz, Wireless Comm
June 24, 2014

C. N. Barati, S. A. Hosseini, S. Rangan, P. Liu, T. Korakis, S. S. Panwar, and T. S. Rappaport, "Directional Cell Search for Millimeter Wave Cellular Systems," Proc. IEEE Signal Processing Advances in Wireless Communications (SPAWC), Toronto, Canada, pp. 120-124, June 2014.

Affiliate Access Only

Low-Power Fully Digital Transceivers, Network Design, terahertz, testbeds
June 22, 2014

M.R. Akdeniz, Y. Liu, S. Sun, S. Rangan, T.S. Rappaport, E. Erkip "Millimeter Wave Channel Modeling and Cellular Capacity Evaluation," IEEE J. Selected Areas in Communications, vol. 32, no. 6, pp. 1164–1179, June 2014.

Affiliate Access Only

mmwave rappaport, terahertz, testbeds
June 13, 2014

S. Sun, T. S. Rappaport, "Antenna Diversity Combining and Beamforming at Millimeter Wave Frequencies," NYU WIRELESS Technical Report TR 2014-002, June 2014.

Affiliate Access Only

Beam Combining, MIMO, mmwave rappaport, terahertz
June 10, 2014

A. Ghosh et al., "Millimeter-Wave Enhanced Local Area Systems: A High-Data-Rate Approach for Future Wireless Networks," IEEE Journal on Selected Areas in Communications, vol. 32, no. 6, pp. 1152-1163, June 2014.

mmWave Channel Models, mmwave rappaport, terahertz, Wireless Comm
June 3, 2014

S. Sun, G. R. MacCartney, Jr., S. Nie, and T. S. Rappaport, "Millimeter wave multi-beam antenna combining for 5G cellular link improvement in New York City," in 2014 IEEE International Conference on Communications (ICC), June 2014, pp. 5468–5473.

Affiliate Access Only

mmwave rappaport, terahertz
June 1, 2014

S. Nie, G. R. MacCartney, Jr., S. Sun, and T. S. Rappaport, "28 GHz and 73 GHz signal outage study for millimeter wave cellular and backhaul communications," in 2014 IEEE International Conference on Communications (ICC), June 2014, pp. 4856–4861.

Affiliate Access Only

mmwave rappaport, terahertz
June 1, 2014

G. R. MacCartney, Jr. and T. S. Rappaport, "73 GHz millimeter wave propagation measurements for outdoor urban mobile and backhaul communications in New York City," in 2014 IEEE International Conference on Communications (ICC), June 2014, pp. 4862–4867.

Affiliate Access Only

mmwave rappaport, terahertz
June 1, 2014

S. Rangan, T. S. Rappaport, E. Erkip, "Millimeter Wave Cellular Networks: Potentials and Challenges," Proceedings of the IEEE, vol. 102, no. 3, pp. 366-385, March 2014.

Affiliate Access Only

terahertz, testbeds, Wireless Comm
March 1, 2014

G.R. MacCartney, J. Zhang, S. Nie, and T.S. Rappaport, "Path Loss Models for 5G Millimeter Wave Propagation Channels in Urban Microcells," accepted by 2013 IEEE Global Communications Conference (GLOBECOM), Atlanta, GA, USA, 9-13 Dec. 2013.

Affiliate Access Only

mmWave Channel Models, mmwave rappaport, Wireless Comm
December 9, 2013

S. Nie, G. R. MacCartney, Jr., S. Sun and T. S. Rappaport, "72 GHz Millimeter Wave Indoor Measurements for Wireless and Backhaul Communications," in 2013 IEEE 24th International Symposium on Personal Indoor and Mobile Radio Communications (PIMRC), Sept. 8-11, 2013, pp. 2429–2433.

Affiliate Access Only

mmWave Channel Models, mmwave rappaport, Wireless Comm
September 8, 2013

R. Mayzus, S. Sun, M.K. Samimi, J.K. Schulz, Y. Azar, K. Wang, G. N. Wong, F. Gutierrez, T. S. Rappaport "28 GHz Millimeter Wave Cellular Communication Measurements for Reflection and Penetration Loss in and around Buildings in New York City," 2013 IEEE International Conference on Communications (ICC), Budapest, 2013, pp. 5163-5167.

Affiliate Access Only

mmWave Channel Models, mmwave rappaport, Wireless Comm
June 9, 2013

Y. Azar, G. N. Wong, K. Wang, R. Mayzus, J. K. Schulz, H. Zhao, F. Gutierrez, D. Hwang, and T. S. Rappaport, "28 GHz propagation measurements for outdoor cellular communications using steerable beam antennas in New York City," in IEEE International Conference on in Communications (ICC), pp. 5143-5147, June 2013.

Affiliate Access Only

mmWave Channel Models, mmwave rappaport, Wireless Comm
June 2, 2013

M.K. Samimi, K. Wang, Y. Azar, G.N. Wong, R. Mayzus, H. Zhao, J.K. Schulz, S. Sun, F. Gutierrez, T.S. Rappaport, "28 GHz Angle of Arrival and Angle of Departure Analysis for Outdoor Cellular Communications using Steerable Beam Antennas in New York City," in 2013 IEEE Vehicular Technology
Conference (VTC Spring), pp.1-6, 2-5 June 2013.

Affiliate Access Only

5G Channel Models, mmwave rappaport, terahertz
June 2, 2013

T. S. Rappaport, S. Sun, R. Mayzus, H. Zhao, Y. Azar, K. Wang, G. N. Wong, J. K. Schulz, M. Samimi, F. Gutierrez, "Millimeter Wave Mobile Communications for 5G Cellular: It Will Work!" IEEE Access, vol.1, pp. 335-349, May 2013.

Affiliate Access Only

Millimeter Wave 5G Prototype, mmWave Channel Models, mmwave rappaport
May 10, 2013

R. Ford, C. Kim, S. Rangan, "Opportunistic Third-Party Backhaul for Cellular Wireless Networks," Conf. Rec. Asilomar Conf. on Signals, Systems and Computers, Pacic Grove, CA, pp. 1594-1600, November 2013.

Affiliate Access Only

terahertz, testbeds, Wireless Comm
May 4, 2013

A. K. Fletcher, S. Rangan, and V. K. Goyal, "A Sparsity Detection Framework for On-Off Random Access Channels," Proc. Wavelets XIII, San Diego, CA, pp. 744607-[1-15], August 2009.

Affiliate Access Only

terahertz
August 1, 2009

A. K. Fletcher, S. Rangan, and V. K. Goyal, "A Sparsity Detection Framework for On-Off Random Access Channels," Proc. IEEE Int. Symp. Information Theory (ISIT), Seoul, South Korea, pp. 169-173, June-July 2009.

Affiliate Access Only

terahertz
June 1, 2009

T.S. Rappaport, "The Wireless Revolution," IEEE Communications Magazine, 29 (11), November 1991, pp. 52-71.

Affiliate Access Only

mmwave rappaport, terahertz, testbeds
November 1, 1991